Sao Miguel Azores
Sao Miguel Azores, also known as San Miguel in english, is where I go for the majority of my Azores Islands vacations. My father emigrated from San Miguel Azores to Canada in 1958 and started going back on a regular basis in the 1980's. My first trip here was as a young teenager in 1988 and I have been back many times since.
From the first time I stepped off the plane at Joao Paulo Airport in Sao Miguel I was charmed by the Azores Islands. I felt a certain energy from the Ocean and star filled night sky. Seeing the old buildings, stone walls made of lava rock, and cobblestone streets was quite a different experience for me and it's one of many things I still love about Sao Miguel.
One of the other things I loved right from the start were the scenic views. Like this one from the back of the home where my dad grew up:

Sao Miguel Azores
The first few times I visited, I stayed right near this spot with dad's cousins. The area was far more modern than in my fathers days there, but still not to the standards I was used to in Canada. The amenities of the island have improved considerably, but there is certainly a great, old world, feeling.  And the views are fantastic:
Sao Miguel Azores is the largest and most populous of the Azores Islands. It measures approximately 65 kilometers long by 16 kilometers wide and everywhere you go the ocean is right in view. The coast line is covered with numerous towns and villages. This is because in the early days it was easiest to get around the island by boat, rather than on foot or horseback. It used to be that the area of Nordeste was called the 10th Azores Island because it was easier to get there by boat than from just about anywhere else in San Miguel.
Until just a few years ago, when driving from Ponta Delgada to Nordeste, you would drive more kilometers to get there than the island is long thanks to the constant twists and turns as the road snakes its way along the mountainous terrain. This has changed somewhat  with the completion of a new road that is more direct thanks to a few major bridges.
Much of the old road is intact so tourists can enjoy the more scenic route if so desired and if time permits. Such is progress ... but don't worry, the island is lush, green, and remote, despite the addition of modern conveniences.
There are many great spots to enjoy here. Every time I go, I tour the Island with my eyes wide open and gain a new perspective. Like this one from a fantastic trip in November 2009:
This picture is taken near the highest point above Lagoa do Fogo. I loved standing above the clouds
In my opinion, San Miguel Azores is the best place to go for a first time vacation to the Azores Islands. And I want to share the landmarks, towns, and lookouts that make this Acorean Island such an enchanting place to visit. 
To stay updated on my progress and learn more about Sao Miguel and all of the Azores, please sign up for the Magical Azores Islands newsletter:
Favourite Places in Sao Miguel Azores
Ponta Delgada Azores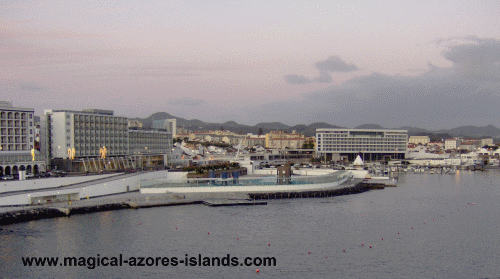 There is so much to see and do in Ponta Delgada. If you vacation in Sao Miguel, I recommend spending a day and evening walking through the city, visiting its shops and cafes, taking in the gardens, exploring the boardwalk, and enjoying the overall atmosphere. I have made a point of spending a day there every time I have been to the Island. Find more pictures and information about the city here: Ponta Delgada and take a look at some pictures here: Ponta Delgada at Night
Once you have soaked up the capital city there is much more to do on the island. 
Sete Cidades (Seven Cities) - a must see in Sao Miguel Azores
This might just be the most photographed spot in all of the Azores Islands. About 20 years ago I saw Sete Cidades with my own eyes and it was even more beautiful in person than I could have imagined. This is essentially a volcanic crater that is filled with two lakes, wooded areas, a small village, and farmers fields.
I recall driving around the crater of Seven Cities for the first time: On one side of the car I looked down over farmers fields and hydrangeas to see the ocean. On the other side of the car I looked down over the green and blue lakes anticipating driving down into the crater. A crater that was formed by volcanic eruption no less! Here is one view of Sete Cidades (not the famous one mind you)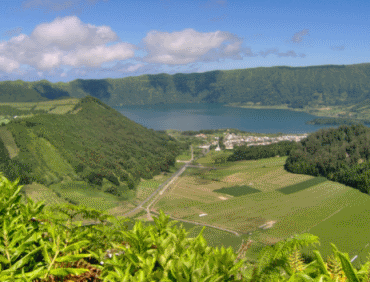 Read more about Sete Cidades, and see more pictures at Sete Cidades
On the way up to Sete Cidades, be sure to check out this Old Azores Aqueduct, pictured here: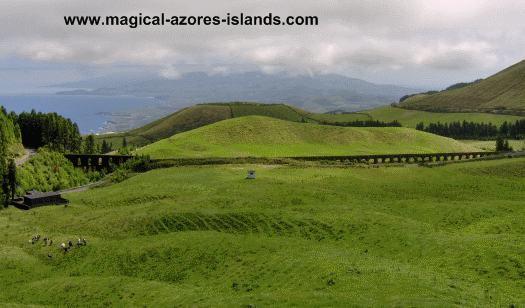 After exploring Sete Cidades, I always try to visit Mosteiros and Capelas. While at Capelas, check out the Capelas Lookout. It is a great place to visit to watch the waves crash heavily into the coast
Furnas
Furnas is a must see spot when exploring San Miguel. Some of the best spots to see are the Hot Springs, Terra Nostra Park, and Furnas Lake where you can enjoy a Cozida. You can easily spend an entire day just enjoying the Furnas area of Sao Miguel Azores.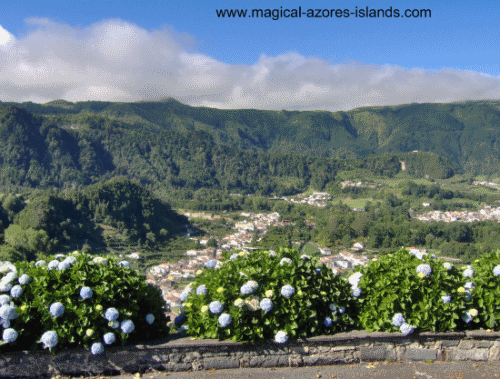 After visiting Furnas, if time permits, it is great to visit Ribeira Quente andPovoacao. Ribeira Quente has a very nice beach. Povoacao is a pretty town with a small beach as well. More pictures and info from Povoacao.
Lagoa do Fogo
Lagoa do Fogo, also known as Fire Lake, is a protected natural area featuring a beautiful lake n another volcanic crater on the island. Lagoa do Fogo is often covered in clouds and fog due to its high elevation. So whenever I go to Sao Miguel I watch for a clear day where the "mountaintop" is clear. Sometimes, by the time we drove to the top, the fog has rolled in.
After visiting Lagoa do Fogo, I often go to Ribeira Grande and stop at Caldeira Velha on the way.
And near Ribeira Grande is Ponta do Cintrao
Vila Franca do Campo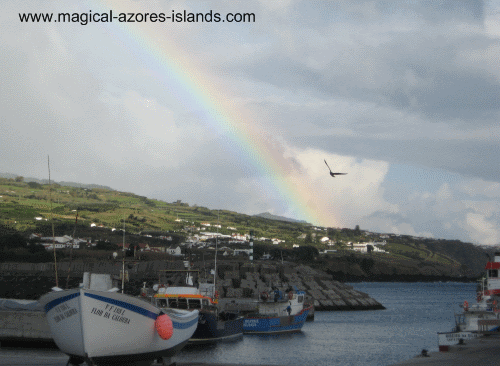 Credit: P. Belchior 

Vila Franca do Campo is a great area to visit. There is much to see and do including a beach and waterpark for fun in the sun, not to forget Ilheu de Vila Franca for more fun in the sunMake sure to visit nearby Caloura, a pretty little town with a nice secluded beach.And if you are driving from Vila Franca to Furnas you might be interested in seeing: Castelo BrancoOther spots of interest on Sao Miguel AzoresPonta da Ferraria - a hot spring in the ocean. Swim in hot ocean waters. 

Porto Formosa - Porto Formoso is a nice town featuring the beach: "Praia dos Moinhos". And nearby to Porto Formosa is another coastal village with a smaller beach but beautiful views Maia 
A little further away is Lomba da Maia 

Achadina is an area with several waterfalls. A good stop on the way to Nordeste 

Lagoa 

Livramento - visit (stay at) Quinta das Acacias, my number one recommendation for accommodation in Azores

Sao Roque 

Relva 

Faja de Cima - pictures At my great grandfathers farm in San Miguel and see beautiful Pinhal da Paz park that is right nearby. 

Ribeira das Tainhas - find a nice beach near a banana farm.These are just a few samples of the many places to see in Sao Miguel Azores.
Maybe you'd like to see some beaches? Try visiting these San Miguel Beaches
A wonderful scenic lookout: The Sossego Miradouro in San Miguel. And there is another one nearby: Madrugada Miradouro
Miradouro da Santa Iria: Another fantastic lookout: Santa Iria

San Miguel Azores Information
Sao Miguel Azores Directory - a listing of businesses of interest to tourists visiting the Azores
Sao Miguel Azores Weather - Find the current weather in Sao Miguel
And for maps, look at the Sao Miguel Azores Map
Find accommodations at: Azores Hotels 
For a small estate winery: Portugal Wine makerAzores in February