The Azores Climate is Just Right (unless you want very hot or very cold!)
The Azores Climate is best described as mild all year round.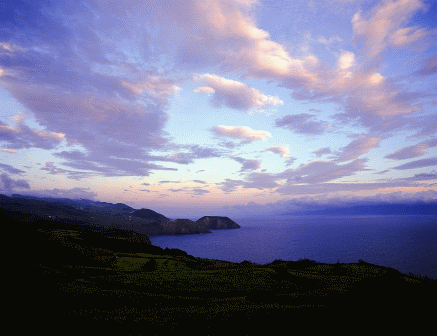 Photo Courtesy of Associacao de Turismo dos Acores

In the winter the average daytime temperatures are from 12-16 degrees Celsius (54-62 Fahrenheit). So you will never see snow on the Azores (unless you climb the mountain on Pico of course).
The average temperatures vary from 11 to 25 degrees Celsius depending on the time of year. In the summer months of June through to September the temperature tends to range from 17 to 25 degrees Celsius.
The wettest months are from October to March but you can expect rain on virtually any visit to the islands. Even the sunniest summer day can be interrupted by rain clouds rolling over the island. And even the wettest winter day can be interrupted by a beautiful couple of hours of sunshine. So pack accordingly by bringing layers of clothing and plan to bring a coat along as you explore the island. A light coat can make the difference between being comfortable or uncomfortable, especially if there is a good breeze coming off the ocean or if you are at a higher altitude enjoying the scenery.
There tends to be light cloud cover over the islands on many days.
The Islands benefit from the East Gulf Stream which brings warm ocean water. The oceans temperature ranges from 17 Celsius in the winter to 25 Celsius in the summer. This makes for very comfortable temperatures for swimming in the ocean during the summer.
Azores weather page also has more information about the Azores Climate
For more information about the Azores Islands visit the home page at Magical Azores Islands. Or go to about the Azores for some common questions.