What are the Azores Beaches like?
I spent a great deal of time on the Azores Beaches in my recent summer vacations to Sao Miguel. It was hot and humid during these trips so every day I took a dip at a beach or two as we toured the Island.
[NOTE: at the bottom of the page is a link to more beaches]
The beaches on most of the islands have darker sand because of the volcanic origin of the islands. I have been to many other beaches including beaches in Mexico, Bermuda, Florida and Cuba and can say that the Azores beaches are not lacking in any way. They certainly are not as white or powdery as some other beaches I have been on. But you can have a very nice day at the beach on any of the Azores Islands.
Summer is the best time to go if you want to enjoy the beach. I recommend you read this Azores weather page if you are going to the Azores looking for a perfect beach vacation.
This first picture is of the beach where I have spent most of my beach time in the Azores. This one is in Sao Roque and is called Populo beach. If you get hungry or want to enjoy a drink, there is a nice little pub right on the beach and another across the street. Both are popular with locals and tourists alike.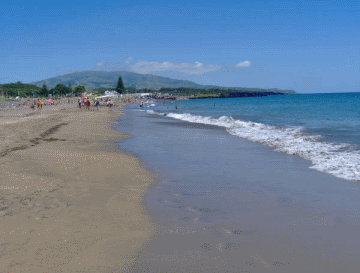 This next photo is of a beach where Marcia and I took a quick dip after a big family celebration by Furnas Lake. This is at the village of Ribeira Quente. The beach is fairly long and there is a nice change house up above it. It was a warm and muggy day so after the family dinner was complete we decided to take a drive to this nearby village. It was a nice evening for a walk and a nice evening to take a quick plunge in the ocean.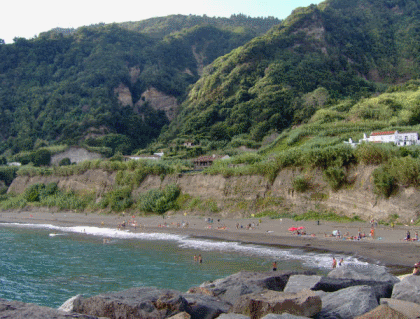 One beach that I have not had the opportunity to swim on is the next picture. It is the beach in Caloura. Caloura is a beautiful fishing village. This beach is fairly secluded and private. There is a stair case cut into a cliff leading down to the beach.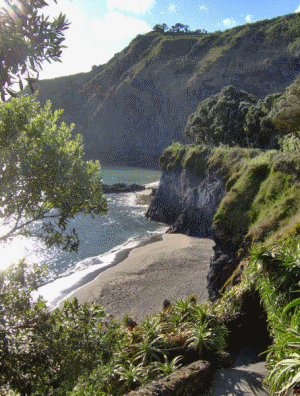 These three pictures are just a small sample of the many beaches in the Azores. There are also a lot of great swimming spots created on the rocky coastline.
If you are going to visit Sao Miguel Island I recommend that you check out the Sao Miguel Azores Beaches page. There are pictures of nine of Sao Miguel's beaches.
--
Looking for general information about the Azores? Click here.
- -
visit Magical Azores Islands home.