Povoacao - May 2012 Visit
In May 2012 I was able to spend a few hours visiting Povoacao. I was fortunate to visit on a day when the town was preparing for the Holy Spirit Festival and it also happened to be time to celebrate Azores autonomy.  

If you have never seen an Azores festival you might be surprised by how much effort goes into preparing for the celebrations. Most festivals here are religious in nature and this one was no exception. There were flowers everywhere and preparations for a big feast. The festivals are a celebration of faith and an important social event with visitors from other towns visiting as well.

This first picture is the crown used in celebrating the festival. I was not able to get close for a better angle: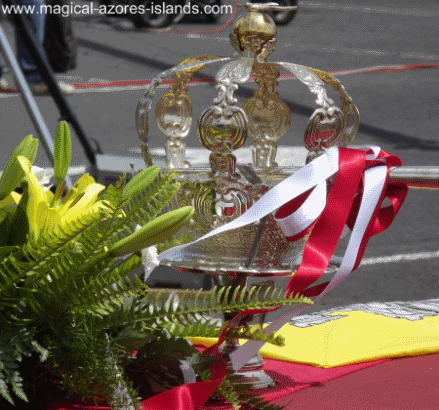 This second image is of the area where the feast was to be held. There were dozens of men working to set up more tables. It seemed as though they were preparing for hundreds of guests: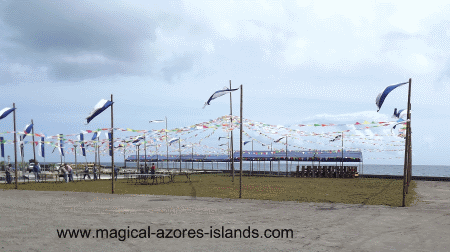 Nearby there was a film crew recording a live musical performance. Note the beautiful embroidery on the dress that the singer is wearing: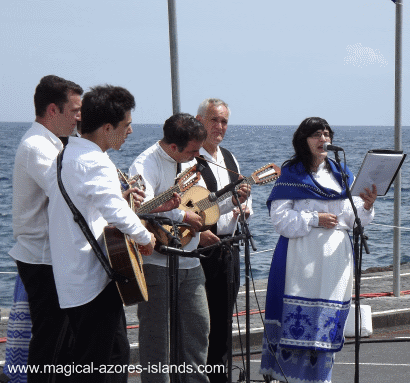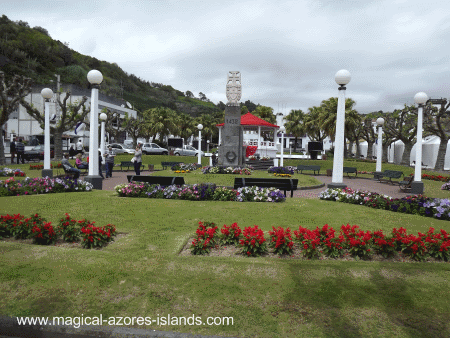 After walking through town checking out the religious displays, vendors, a temporary petting zoo, a small permanent zoo in town (I have never been a fan of this little zoo, but some people enjoy a brief visit), the small sandy beach, the hotel and more, we decided to sit down for some lunch at this restaurant: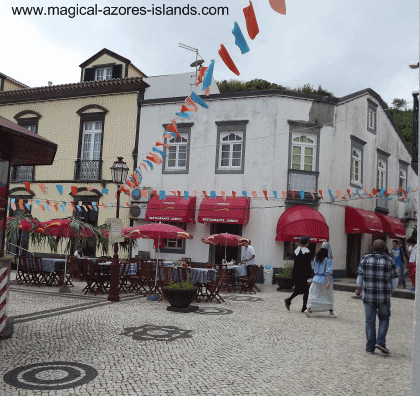 Our meal was good and affordable. It did get extremely busy when we arrived and service became quite slow. But that was ok as it was a beautiful day to enjoy the patio, the people and the weather. You might note in the picture above that there are people in period costumes. There were quite a number in honour of the celebration of Autonomy.

More Povoacao Pictures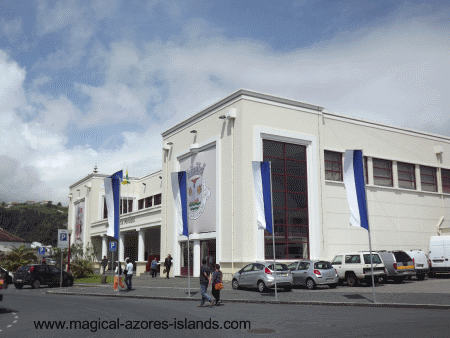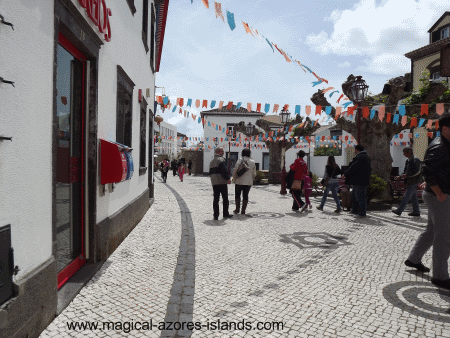 The flags are there for the festival. To the left is the post office.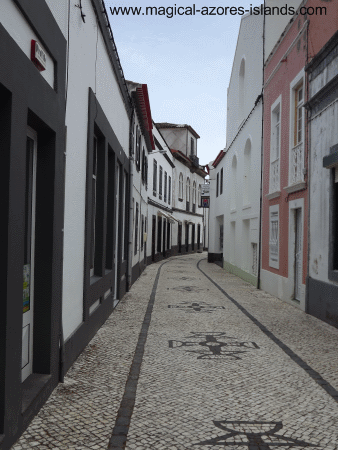 Read more about this lovely town at: Povoacao

And read more about the Island at: Sao Miguel Azores There are many great places to visit on the island and I hope you will get many ideas from this page.

Thank you for visiting www.magical-azores-islands.com