A Growing Collection of Azores Photos
This collection of Azores Photos is growing every month. The pictures come up on the site from a number of sources. The www.magical-azores-islands.com site started with pictures that I took in recent vacations. As the site got more established I have received Acores photo contributions from family and friends who have visited the islands. And visitors to the site can share their pictures as well.
Azores Pictures
There are many scenic lookouts in the Acores, check out: The Sossego Miradouro in Sao Miguel Azores. And of course there is the Lookout of Santa Iria which has an incredible view, birds nesting in the cliffs, and the scent of ginger from huge yellow ginger flowers.
And for another beautiful garden: Quinta Das Acacias
A gallery of my favourites of Faial: Azores Images Faial. Like this one:
Read more about it at Faial Accomodation in Azores
A favourite place for me to stop and snap some pictures is at the aqueduct pictured here:
Photos From the Tourism Board of the Azores and Portugal and Public Collections
See beautiful pictures of Flores Island Azores
And then there is Pico Azores Pictures. Great pics to check out!
A Photo Gallery from MR A Photography
The next gallery of Azores Photos are from Ponta Delgada . They are photos taken by Mr A Photography.
A second set by MR A Photography features some great pictures of the Ocean, the coast, whales and a hot spring in the ocean: Photos of the Ocean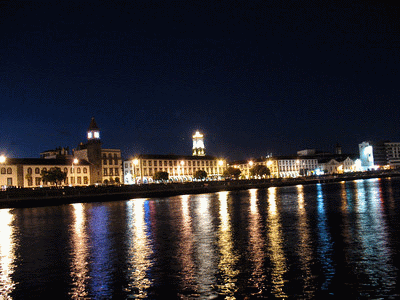 Photo by MR A Photography

A Photo Gallery from my Aunt and Uncle
The first set of photo's I received from family were from my Uncle Frank and Aunt Gail. I put them into a three page gallery that starts at Frank and Gail's Acores Photo Gallery Part 1
Your Photos
That's right, there is a spot to share your photos from the Azores
Here's a few by a fan of our site:Acores Photos
10 of Mom's Pictures from a Recent Winter Visit
Photo Courtesy of Pat Belchior
My mom was recently in the Azores and took a whole bunch of pictures that she shared with me. I have included many on the site already but visit this page for some her best ones: Moms Azores Photo Gallery
And take a look at these beautiful pictures from Terra Nostra Park in Sao Miguel Azores that she took several years ago.
Want to know When More Photos and Articles are Added to the Site?
If you have an interest in the Azores, why not subscribe to the Azores newsletter and get regular updates on new additions to the site, including great pictures. I will also let you know when you can share your own pictures of the Islands. Fill in this form to get the monthly newsletter:
Don't worry — your e-mail address is totally secure.
I promise to use it only to send you Magical Azores Islands.
Go to www.magical-azores-islands.com for other pages. Most of them have great Photos from the Azores