Sao Miguel Azores Directory - Businesses of interest to Tourists
Looking for something in Sao Miguel? This brand new Azores directory is made so tourists going to the Azores can connect with services of interest.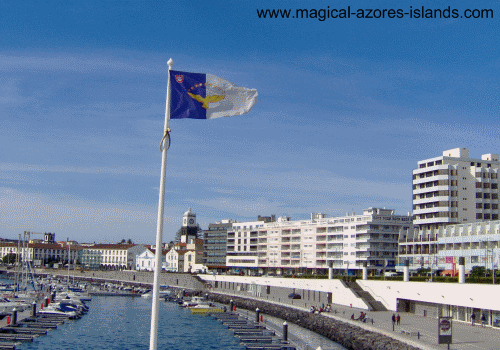 This will include whale watching tours, accommodations, restaurants, fishing boats, car rental agencies, shops, taxi services, diving agencies, golfing, wineries and more tourist related businesses.
Are you a business owner from Sao Miguel Azores interested in being listed in this directory? Please scroll to the bottom of this page and fill in the form for a free listing.
Azores Directory
I am hoping that this directory will be good for everyone who uses it, including tourists, locals and businesses. I ask that you keep in mind that this is a free listing page and I have no control over the quality of service provided by any business listed here. So use these businesses at your own risk, use good judgment and common sense when dealing with them
Accommodation in Sao Miguel Azores
Quinta das Acacias Quinta Das Acacias is a wonderful property with seven self catering cottages. This is one of my recommended Accommodations in the Azores> Bonita and Eduino Sousa are great hosts.
Another consideration is Tradicampo, located in the Nordeste area of Sao Miguel. Find out more at http://www.tradicampo.pt or by calling Ricardo Peixoto, Manager, phone +351 296.491.303
Find other hotels in the Azores at the Azores Hotel page
Tours of Sao Miguel
Amazing Tours Ricardo Amorim has been recommended to me by friends in the Azores. Check out his site at www.amazingtours.se.
Whale Watching
The
Sweet Sea
is a company based in the Azores, San Miguel island, operating the boat "SEA COLORS." Services offered include: 1 - Whale Watching Tours; 2 - Whale Watching Tours with lunch included; 3 - Whale Watching with lunch PLUS Land Tours; 4 - Whale Watching PLUS SeaBottom.Read more at
www.sweet-sea.net
.
They can be reached by phone at: +351 296 581 240
Sailing
Azores Sailing
Visit www.azoresailing.com for information on this sailboat located in Vila Franca
Car Rental in Sao Miguel
Autatlantis Rent a Car
www.autatlantis.com
Ilhas de S.Miguel, Santa Maria e Flores

Azores Travel Agencies
Panazorica - Agencia de Viagens, LDA
Rua Manuel Inacio Correia, N.º 81 P 9500-087 - Ponta Delgada
www.panazorica.pt +351 296 30 17 23
We are a travel agency mainly operating in Incoming but also operating in outgoing. We have our own buses, providing transportation for groups and individuals, and also regular tours around the islands.

--
More services will be added to this page over time. Why don't you sign up for the Magical Azores Islands Newsletter so you can read about the Azores Islands each month from a tourists point of view.
Or read more about the island of Sao Miguel Azores.
Azores Businesses: Would You Like to Get Listed in this Azores Directory?
I have a few simple requests in order to list your business here:
Your business must be of interest to Azores tourists
Please link back to this site (to get a live link back)
You agree to provide quality services and products and fair prices
You agree not to suggest that I personally endorse your business (unless I do so in writing)
Please fill in this form and I will get your listing on this site. Thanks!
Thanks again for supporting www.magical-azores-islands.com
Top of Page: Sao Miguel Azores Directory