Visit Caldeira Velha Sao Miguel - A Great Place to Relax
Caldeira Velha Sao Miguel is a great little spot that you would easily pass by on your way up to Fire Lake from Ribeira Grande or vice-versa.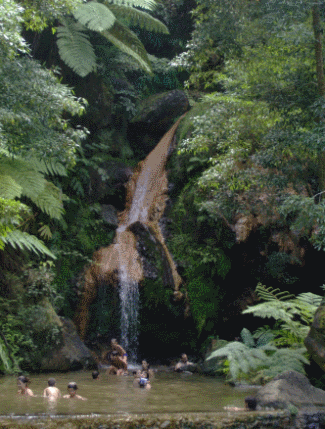 If you are planning to go up to the Lagoa do Fogo (Fire Lake) lookout I highly recommend heading down the mountain going towards Ribeira Grande. There are two reasons for this. First, Ribeira Grande is a very nice city to visit (I recommend the liqueur factory there). Second, Caldeira Velha is a nice place to stop and visit.
As you drive down the mountain, through lots of twists and turns, in and out of forested areas and then areas with great views, you will have the opportunity to stop at Caldera Velha. In the high season of summer there will be a few vendors and a lot of cars so you really can't miss it. In the low and shoulder seasons there probably won't be much activity but it is a recommended stop all the same.


It used to be that you could drive right in to the Caldeira, but now you must park out on the road. I think this is much nicer. What used to be a driveway is now a nice walking path through the trees. There are plenty of plants and flowers to admire as well as a nice little creek. The guide books call it a river but that's a bit of an exaggeration (or poor translation to English).
After a short walk down the path you will come to a chance to turn off the path to see a Caldeira. Off to the right is a sign giving warning.


The Caldeira is like the ones at Furnas. You really should see it in person! So I have just put a picture of it from the other side of the bridge you have to cross to get to it. This bridge crosses the creek that the path follows. You can see in all of these pictures that there are a variety of plants. There were some nice flowers in bloom but I haven't included photos of them on this page.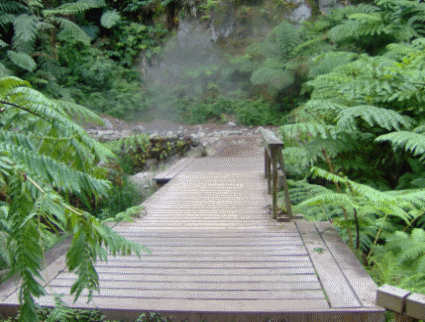 Further up the path is a pool of mineral water under a waterfall. The water is warm and just deep enough to go up to your waist. There is a small wall to make it larger than it would be naturally and the water cascades over that wall down the creek (aka river) along the path that you must follow in and out from the road. Here's a picture of Marcia and I in the pool.

My swim at Caldeira Velha Sao Miguel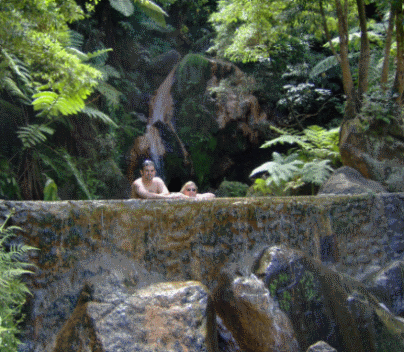 You can see the waterfall in the background. The rocks have turned a rusty color thanks to the mineral water pouring over them. And you can see the wall holding back the water to make the pool larger. The water pours over this wall and forms the creek.
Caldeira Velha Sao Miguel a nice scenic spot for a picnic, a quick dip in the water, or just a short nature walk during your visit in Sao Miguel.


Return to Magical Azores Islands home (leave Caldeira Velha Sao Miguel)