Sete Cidades
Sete Cidades is a can't miss spot on Sao Miguel, Azores. It's an absolutely beautiful setting that any visitor to the island should visit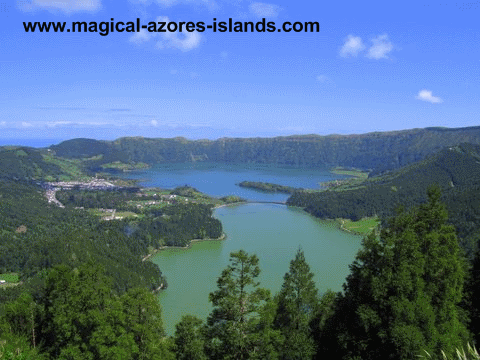 Long before I ever saw this beautiful area I was familiar with it. I knew it as Seven Cities and knew how it looked because of a picture on my grandparents wall at their home in Beamsville, Ontario (they emigrated to Canada in 1958 with their children, my dad included). Every time I visited them, I saw the picture and wondered where that beautiful spot was and if it was real. I finally got my answer when I was about fifteen years old and saw Seven Cities for myself. The area is way more beautiful than I ever expected and it is one of my favourite spots to visit in the Azores.
Sete Cidades has many wonderful views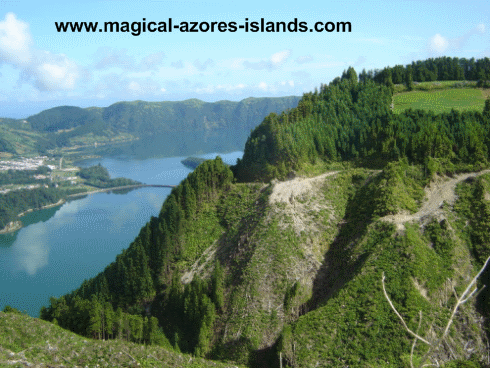 Picture courtesy of Mary Belchior Vanderhorst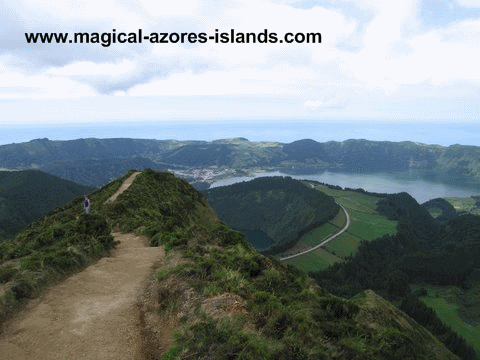 Picture courtesy of Pastor John Rodli
Picture courtesy of Pat Belchior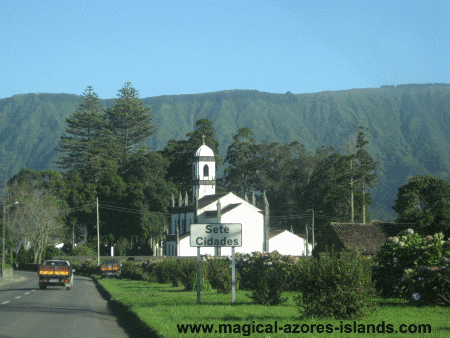 Picture courtesy of Pat Belchior
As you can see in the pictures, Sete Cidades is composed of two lakes in the center of a large volcanic crater. The crater measures about five kilometers in length and one to two kilometers in width. One of many striking features of the area is the colours of the two lakes. One is green and the other is blue.
Legend has it that the colours of the two lakes were created by the tears of a princess and her lover when the king forbade their romance. The king allowed one last visit between the princess and the young shepherd. At this meeting the princess and her young lover shed tears that formed the two lakes, each with a colour matching their eyes.
Aside from the attractive view, there are alot of interesting sights in the area. These sights are both man made and natural. The natural sights are largely due to the area's volcanic origins starting 22,000 years ago. The last eruption was in 1880 and historically this has been one of the most active Azores volcanoes. Covering the rugged landscape is lush vegation and beautiful flowers. Azaleas and Hydrangeas flourish in the crater, as do cedar trees.
When I go, I really enjoy driving or walking around the top of the crater on the narrow road. It offers wonderful views of the coast as well as the interior of the crater. I don't recommend it on a rainy or foggy day though, there is no view what so ever then. Much like the first time I brought my wife, Marcia. The fog was so thick that day that we couldn't see more than five feet out the windows of the car. Most other visits have been beautiful.
The man made sights to see include:
The nearby aqueduct - located outside the crater
The bridge - runs across the area between the two lakes
The tunnel - this tunnel is 1200 meters long and is used to drain the water level in the lakes to prevent flooding in town. The tunnel comes out in the Mosteiros area
The little town
And the church - this is a very pretty little church
Would you like to see inside the church? Subscribers to the monthly ezine got to see it and other exclusive pictures. You can too by subscribing to my monthly newsletter. Right here:
For more great pictures, check out SeteCidades photos
Find other great spots in Sao Miguel Azores
Return to Magical Azores Islands home
Go to top of page: Sete Cidades