Surf Azores
Surf Azores - Information on Surfing in the Azores
The Azores Location makes the islands a natural spot for surfing. The islands are part of a volcanic chain of underwater mountains that run the length of the Atlantic Ocean. The Azores are one of the few spots where the mountains surface so there is plenty of deep water all around. This helps to create an exciting environment for those looking for a great new spot to surf.
The Islands have many advantages for those interested in a surfing vacation spot. They are a remote location with few surfers so there is little competition for waves at the beaches. Not only that but there are consistent waves all year round thanks to the deep water. The surf ranges from 3-5 feet in the summer and 15 feet and up in the winter. A final advantage to surfing in the Azores is the warm ocean water thanks to the Gulf Stream.
High praise for the Azores came from The Endless Surfing Blog, the author referred to the area as "the Atlantic Hawaii". Click on the link to read the author's personal account. He's got a lot of great pictures from his trip. With his permission I borrowed the one below.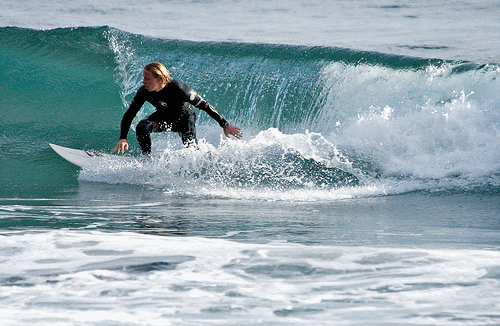 Surf Azores photo courtesy of http://endless-surfing.blogspot.com/search/label/azores
In the summer of 2009 the Association of Surfing Professionals (ASP) chose to have a WQS event at Sao Miguel Azores. The event went from August 24 to the 30th and there was a lot of positive feedback about the event.
Wondering what else there is to do in the Azores? Find out more at www.magical-azores-islands.com