Ponta da Ferraria, A Hot Spring In The Ocean
Ponta da Ferraria is between Ginetes and Mosteiros on the western tip of Sao Miguel. One of the most unique things about this spot is that it is that there is a little natural swimming pool that is fed by a hot spring.
In this first picture of the swimming area you can see that there have been some improvements made in the swimming hole by adding a ladder and some large rocks to help prevent erosion.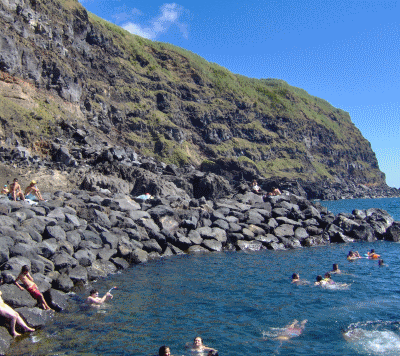 Like I mentioned above, this isn't just any coastal spot with a natural swimming pool. This swimming pool is hot. The ocean temperature reaches 28 degrees Celsius at low tide. And you can see that the spring itself is a scorching 61 degrees Celsius!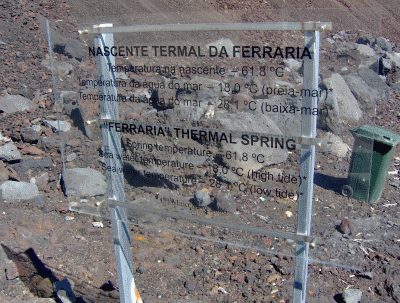 If you drove to Ponta da Ferraria and stopped at the lookout, you might have no idea that this pool was there. Unless of course you were a subscriber to my newsletter about the Azores.
There is a paved road down the cliff to a parking area just a few hundred meters from the pool. You can walk to the swimming pool from the parking area along the path you see in this picture.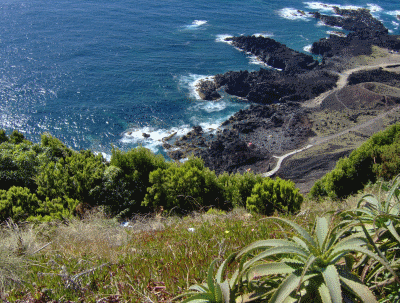 Once you have taken the drive down the steep cliff you can walk to the pool down this path: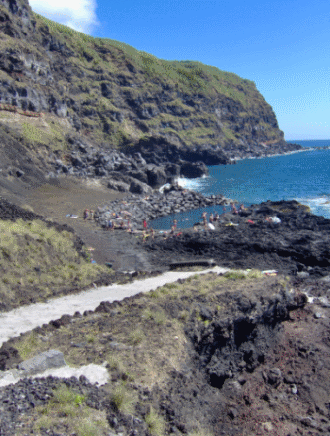 The path used to go all the way to the pool, but it was washed away in the winter of 2007-2008. This was due to some fierce winter storms that generated large waves. (Update - a new path is in place)
Here is a look from the pool towards the path. You can probably tell just how jagged the lava rock is in places. You can walk on a less jagged surface most of the way, but eventually you have to navigate across this rock to get into the pool. So bring some shoes!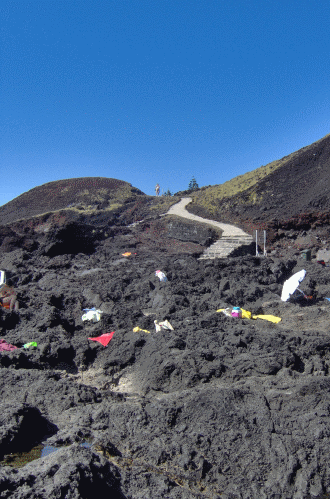 These next few pictures will give you an idea of just how jagged the lava rock can be along parts of Sao Miguel's coastline. These were taken right at the swimming area in Ferraria.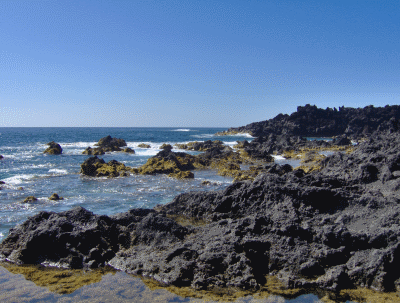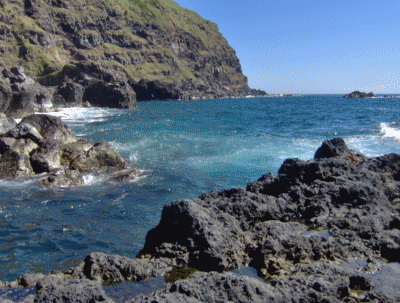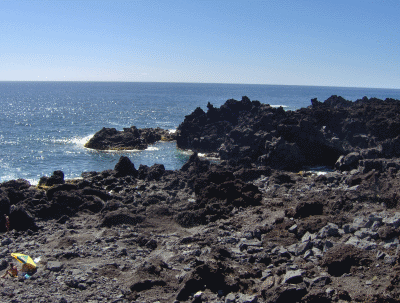 Ponta da Ferraria is one of many great places to visit in Sao Miguel Azores.