Have a Cozida in Furnas
When visiting Furnas in Sao Miguel it is possible to arrange to have a meal by Furnas Lake. And I don't mean any meal, I mean having a delicious stew cooked right in the ground by the geo-thermal heat (in other words - cooked by the volcano!).
This meal is called a Cozida. It is a stew made up of various meats and vegetables all in one pot. Once the ingredients are put together in the pot it is put in the ground to be cooked. The cooking holes look like this: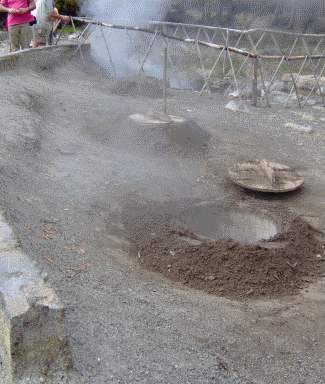 There are two of them in the picture above. In the back ground is a very hot Caldeira that is fenced off with wood so that no one gets close enough to be seriously injured. There is actually a large sign posted in three languages. In English it says: "Be Careful - Natural Boiling Water". It is so neat to walk up to the area behind the sign (where all of the pictures on this page are taken). When you walk among the various areas that are fenced off for safety reasons and among the holes where Cozidas are cooked, you can look down at the ground and see bubbles coming up through the soil. It's really neat to see. And maybe a little un-nerving.


This next photo is facing the opposite direction towards the Lake (By the way, I think you will enjoy reading about my experience at Furnas Lake).
In the photo, you can see six spots where a cozida is cooking. Each one is tagged so that everyone knows which pot is theirs.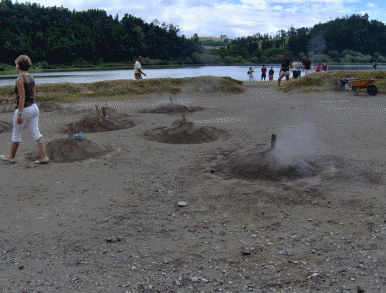 I would say that there are at least 30 holes dedicated to cooking Cozidas. I have never counted so it could easily be more.
Here is a picture of a Cozida being placed in the ground: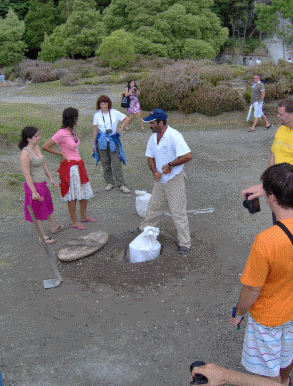 And this last picture is of a Cozida that was cooked for my family. This was at our celebration of the 50th anniversary of my father and his family (his parents and siblings) coming to the Canada from the Azores. It turned out to be a great feast on a beautiful day in a beautiful location.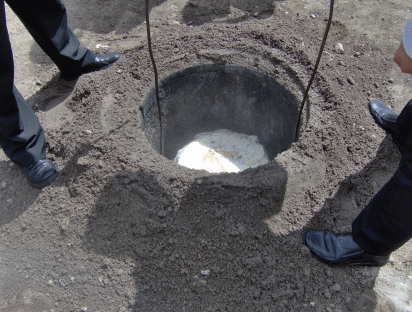 It takes about five or six hours for the Cozida to cook. What I have normally done is gone to see the pot go in the ground late in the morning and either relaxed by the lake all afternoon or gone exploring in the area. It's a short drive to the Caldeiras in the town of Furnas. There is also a great lookout nearby and a great park (Terra Nostra Park in Furnas). It is very easy to spend an entire day exploring the area. I have done exactly that on at least three occasions.
If you decide to go for a Cozida, I hope you enjoy your day!
For more information about the Azores Islands visit the home page at Magical Azores Islands. or visit about the Azores.