Furnas Lake, Sao Miguel Azores
A beautiful spot and my un-nerving experiences
Furnas Lake is yet another spot in Furnas worth visiting. If you arrange to have a Cozida then you will certainly visit the Lake. The area has a few features that can be a little surprising if you are not expecting them. On my first visit some twenty years ago I experienced the first. And on a recent visit a experienced my second surprise. But more on those experiences later.
The drive along the lake to where you will park is quite beautiful. Just before getting to the lake, you will pass through a park like, wooded area. You will be driving on an old cobblestone road that will make you appreciate that many of the main roads are modernized now! Here's what you will see as you drive along the lake (on the right is a steep hill going up the crater):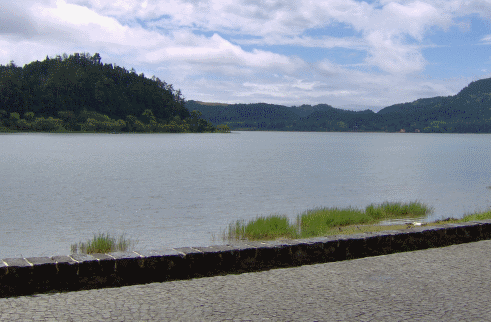 There is a nice parking lot set away from the lake and behind a wooded area. It is good that the parking is there, along with the modern washrooms (unlike my first few trips). When you walk out to the lake you don't see many cars and can get a feeling of calm. If it is at a busy time of year there will be some vendors selling ice cream, drinks and snacks. And there might be some paddleboats available to rent. I think I paid three euros for a half hour. It was well worth it as it led to a new, and un-nerving discovery. But first I will tell you about my first un-nerving experience in this area of Sao Miguel Azores.
Near the parking and about 50 metres from the lake is the area where Cozidas are cooked and there are some Calderas as well (natural boiling water). You can walk freely in this area except a few spots that are cordoned off due to the boiling water. On my first visit there I was looking at the spots where the food is cooked in the ground. And then I looked at my feet and was surprised to see bubbles coming up through the dirt! The dirt actually bubbles! You really have to see it to believe it.
Paddleboating on Furnas Lake
In all my visits to Sao Miguel I had never once taken the opportunity to go out on a boat onto the lake. It's a small lake (only about 2km long) and you can easily see the whole thing from the shore. So I guess I never really thought much of it. But on the day of a family dinner celebration here I had plenty of free time. So Marcia (my wife) suggested that we go out on one of the paddleboats. It was a beautiful day and within a minute of paddling I was sure that this was a great idea. Take a look at the view from the lake: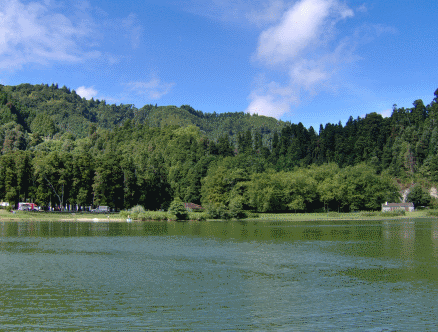 As you can see, it was a beautiful summer day in a tranquil setting. The picture is towards the vendors and parking lot, so you can appreciate what I mean about nature's calm.
As it turns out nature may look calm, but there is sometimes something powerful right behind that calm facade. And that is certainly the case here.
We paddled out to the middle of Furnas lake. It was there that I got a real surprise. I could see something in the distance that looked like the wake of a boat. But there were no boats on the lake other than four paddleboats. I snapped a picture because I really wasn't sure of what I was seeing: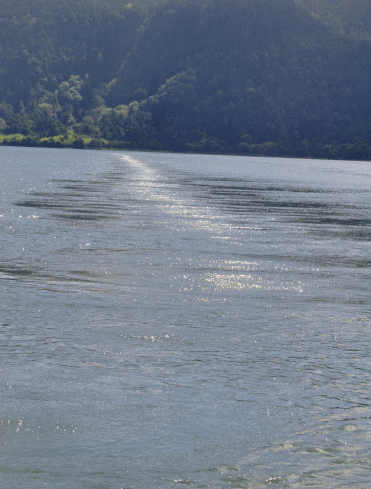 I was puzzled at what made this wake. I started thinking maybe it was from some mysterious creature like the "Lock Ness Monster" or something! As we got closer I realized that it was a long line of bubbles: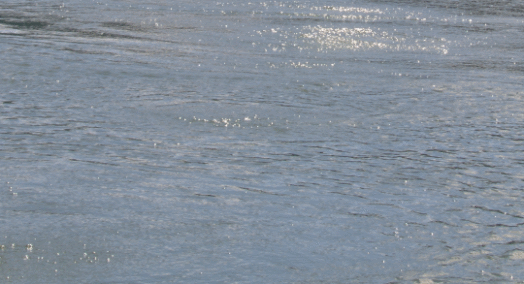 Here's a picture of a relative from San Miguel checking the bubbles out. He had not seen them before either: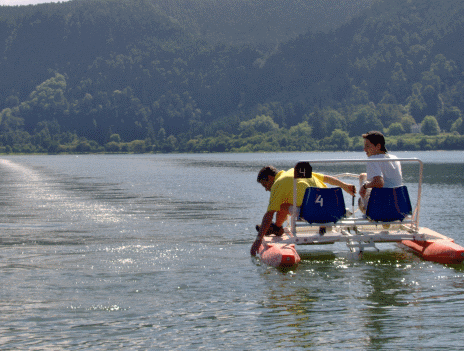 Once our half hour was up we returned the boat and I asked my dad about the long line of bubbles in the lake. Apparantly they have been there a long time. Just more evidence that this a volcanic island and not all of the volcano's are extinct.
Around Furnas Lake
There is a lot of good hiking all around the lake. The area has a lot of nice trees and plants. All in all it is a great place to visit. Here's a picture of a hiking trail that you can follow: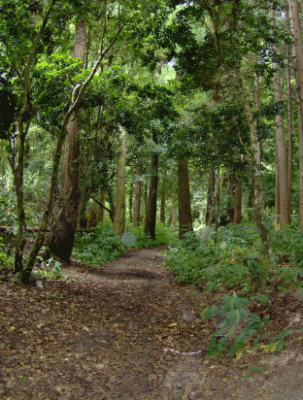 It starts near the area where the Cozida's are cooked. A few members of my family walked all the way around the lake and really enjoyed it. The landscape was nice all around, and there were plenty of flowers, including the hydrangea's which do so well on the island.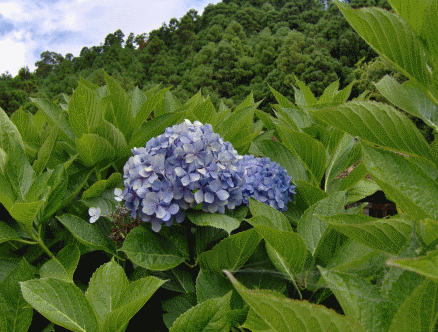 Furnas Lake is a great area to spend some time visiting and I hope you enjoy it.