About the Azores
Do you have questions about the Azores? You are not alone! More often than not I need to explain what the Acores is, where on earth they are located and other related questions.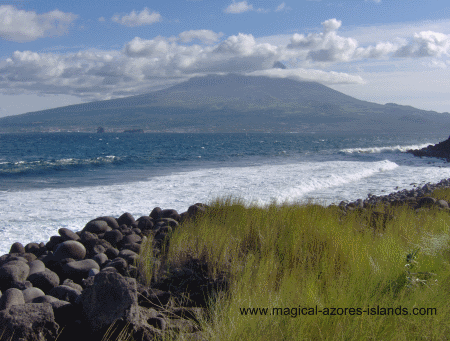 View of Pico from Faial
What are they??
The Azores are a chain of islands created by volcanic activity that occurred over thousands of years. They were discovered in the early 1400's and settled slowly over the following centuries.
Now that I have cleared that up, I can bring you up to speed on some of the need to know stuff about the islands...
The first thing I should tell you is that the islands major industries are farming, cattle (for dairy and meat) and fishing (what else would you expect in the middle of the Atlantic?). So they really do offer a good amount of old world charm. This also means that you might not always have all of the high standards of home as you travel the islands. The roads have lots of curves and some are still made of cobblestone!
Don't worry, the important comforts of home are all there. The Azores Islands want Tourism to be a more significant industry so they are upgrading in the areas most important to tourists.
As you tour the islands you will undoubtedly encounter many farmers fields and herds of cattle. And you might even encounter cows crossing the road. I have been delayed several times by herds of cattle. It usually is just a momentary delay and if you have a sense of humour you will enjoy the diversion for a minute or two as the cattle pass your car.
Holidays to the Azores
Are you wondering if you should visit the Acores on holidays? I have written a list of reasons why you should, and should not, go on Holidays to the Azores. Take a peek at that page after you read this one.
Azores Location
The most common question I hear is where are they (well, next to what are they?!)
The Islands are quite literally in the middle of the Atlantic Ocean.
It takes about 5 - 6 hours to fly there from most Airports on the Eastern side of North America. From the East Coast of North America it is 3900 kilometers (2400 miles). And from Lisbon (the capital of Portugal), it is a couple hour flight coveraing 1500 kilometers (950 miles)
The distance to major cities and the continents keeps the Azores from progessing too quickly. Which is fine by me!
Click here for a map that shows Azores Location
Azores Climate
The Azores can best be described as moderate. For average temperatures and more information click Azores Climate
Acores?
Wondering how to spell it? In English it is with a z. In Portuguese it is with a c. I use both because I like both versions! So please do not be confused. It's just me staying in touch with my Portuguese heritage.
Ponta Delgada Azores
Ponta Delgada, on San Miguel, is the capital city of the islands. It's a fun city to tour. Lots of shops, a beautiful boardwalk, churches, restaurants, nightlife, a marina, parks and more.
How Many Islands are there?
There are nine islands:
These islands span an area of 2300 square kilometers.
Who owns the Islands?
They are part of Portugal. And as a result they are part of the European Union. The European Union is investing in infrastructure improvements on the islands. The last time I was there I was amazed by all the waterfront improvement projects that were underway. These projects included new boardwalks and swimming areas that tourists would enjoy immensely.
They are part of the European Union and use the Euro.
Time Zone
The islands are in their own time zone! The time zone is known as the Azores Time Zone and it is GMT -1 (Greenwich Mean Time - 1). They are a 4 hour difference (-4) from Toronto, New York city and Miami (4 hours ahead). And they are a 1 hour difference (+1) from Lisbon and London (1 hour behind).
Language
The primary and official language of the Islands is Portuguese. I do not speak much portuguese and found that you can do well with a few basic phrases. And you can almost always find someone who speaks English as it is taught in the schools and they Azoreans are trying to encourage tourism. I try hard to show my manners and respect for the culture by learning as much of the language as I can each time I go.
A word of advice If you buy a Portuguese - English Dictionary make sure it is for Portugal's Portuguese, not Brazil's Portuguese! There are substantial differences that were big enough for me to royally confuse some poor Azoreans (including my dad) when I tried to impress them with my new found language skills. Ah well, you can learn from my mistakes ... that's what the site is for!
Azores Flag
The Azores flag is blue and white, with the image of a golden goshawk in the middle (below 9 golden stars) and the Portuguese coat of arms is in the upper left. To see a couple pictures, click: Azores Flag
Return to Magical Azores Islands home (leave about the Azores).
Learn more by signing up for the E-zine, published every month