Aunt Gail and Uncle Franks Azores Photo Gallery
This Azores Photo Gallery is a select few pictures courtesy of my Uncle Frank and Aunt Gail. They really highlight some of the Azores Islands magic that I have come to love. All of these pictures were taken on the island of San Miguel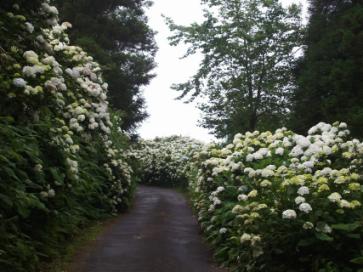 If you go to Sao Miguel Azores in August you are sure to see this picture played out hundreds of times across the island. There are rows of hydrangeas like these all across the hills and along the roads. They are huge and are a bright blue or a pristine white. They are beautiful to see from a distance and up close. When you walk along side them there is a sense of anticipation wondering what is on the other side. And as you drive around the island you can only marvel at their abundance.

Sao Miguel Azores Typical coastal views
As you drive around the islands (or hike, or cycle for that matter) you will look inland for lush vegetation, farmers fields and mountainous terrain. And you will look out towards the ocean for amazing coastal views like this one: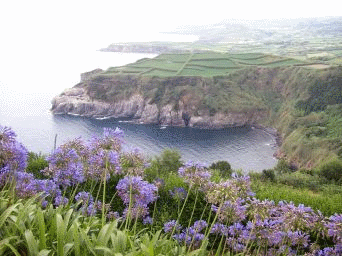 The foreground of this shot shows that there is more than just hydrangeas on the island.
You might have read elsewhere on this site that the islands were formed by volcanic eruptions. These next few photos show the volcanic rock that is abundant on the coast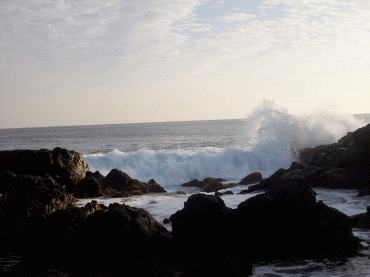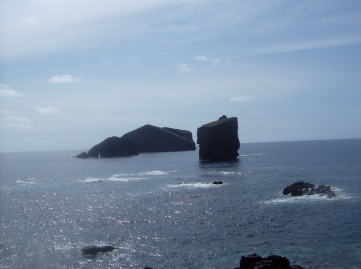 Okay, you probably get the idea that the coast is quite rocky in spots! It's really neat to walk on the volcanic rocks and touch them. They are quite light, porous, and sharp in spots.
Uncle Frank and Aunt Gail's Photo Gallery Part 2
Click here to return to Magical Azores Islands home
Or go back to the main page of the Azores Photo Gallery