10 things
by niall
(Ontario, Penetanguishene)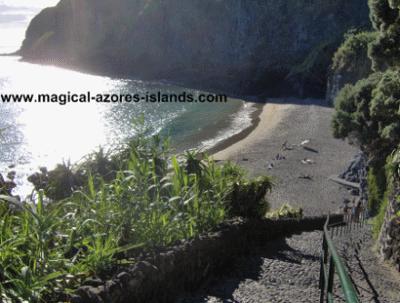 Caloura Beach
We are going to Azores, Sao Miguel for a week in mid April....will be flying from Lisbon after 9 weeks in Algarve.

In the period of one week what are the 10 MUSTS for us to do .....we are staying at Talisman in Ponta Delgada

Rob's Reply
Hello Niall,
It sounds like you have an amazing trip lined up.

The number one thing to do in the Azores is to just slow and enjoy the island life. But there are a number of great things to do and see in Sao Miguel. Your week will fly by.

In no particular order, here are ten things I recommend:




Ponta Delgada - I love spending an entire day exploring Ponta Delgada. Since you are staying there, you can do this easily. Take some time every day walking the city, checking out the avenue, and visiting the shops and cafes.


Seven Cities - known as Sete Cidades, is a beautiful, peaceful area. I enjoy hiking around the area and having lunch in the village


Furnas- Visit the hot springs in the old town


Furnas - Visit Terra Nostra Park, wonderful gardens with a hot spring fed pool.


Furnas Lake - if you can, have a Cozida. And take a walk around the lake


Go hiking there are a lot of beautiful hikes on the island. Read more at Azores Hiking



Lagoa do Fogo - check out Lagoa do Fogo, then head to Caldeira Velha and on to Ribeira Grande


Get out on the water - try to go sailing, whale watching, diving or fishing. Whichever you might prefer most


Visit Vila Franca do Campo and Caloura. While at Vila Franca, try to go up to the church on the hill for a great view. While at Caloura, check out the private little beach.


Enjoy the local restaurants - there are so many great little cafes and restaurants to check out.


I hope that helps!

Regards
Rob

Join in and write your own page! It's easy to do. How? Simply click here to return to Your Azores Questions.