First time to Sao Miquel!
by Sharon
(Essex Uk)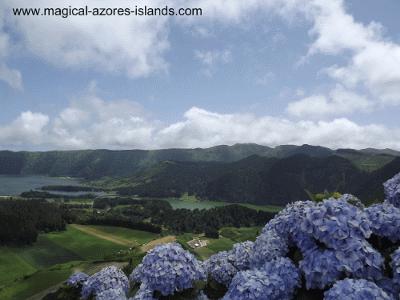 Sete Cidades
We have visited Madeira and mainland Portugal many times and are now visiting the Azores for the first time for a week this Easter. We are staying in Ponta Del Garda and would like any tips you have for thing to do, eg. car hire, places we must see, good restaurants, likely weather to expect etc. Would appreciate any tips.
Kind regards
Sharon


First time the Azores
Hi Sharon
In early April you are likely to get a mix of weather. You will very likely encounter a few rainy and foggy days. Spend those days exploring Ponta Delgada.
The first clear days you get, take advantage and get out to see these two lovely places (pictured above):
Sete Cidades
and Lagoa do Fogo (
Lagoa do Fogo
). Both of these locations are elevated, so if it is a rainy or foggy day, you will not get good views. So please remember my advice to go see these two areas on the first clear days you get. The first time I took my wife to Sao Miguel it was in April and we experienced quite a bit of fog and rain. We missed two great opportunities to see Sete Cidades. When we finally went the fog rolled in and she missed out.
Two places of interest are a small estate winery in the Fenais das Luz area and the two tea plantations on the north coast (apparently the only tea plantations in Europe!). Porto Formosa Tea plantation is pictured. And for info on the winery, please read this page:
Portugal Wine maker
If time permits, the
Furnas
area is of great interest. Terra Nostra Park, located in the town of Furnas, is well worth the small price of admission.
Another great park to check out is Anton Borges park in Ponta Delgada. It is located close to the Parque Atlantico shopping mall. One of the four pictures above is of a tree in Anton Borges park. I need to go there on my next trip and find out what kind of tree it is ... I have been calling it an Indian Rubber tree but someone tells me it is a Morton Bay Fig Tree ... if you go, would you do me a favour and read the sign?
In terms of restaurants, there are many good choices in Ponta Delgada. I always recommend Nacional as I have never been disappointed there. It's a bit dated, but the service and food has always been excellent. It is located near the downtown post office.
I do hope you enjoy your trip to
Sao Miguel Azores
. I'd love to hear from you after to let me know if you enjoyed it.
Sincerely
Rob Belchior
www.magical-azores-islands.com