What to do in Porta Delgada (I hope it's correct) in 4 hrs while waiting for another plain to Canada?
by Margaret
(Canada)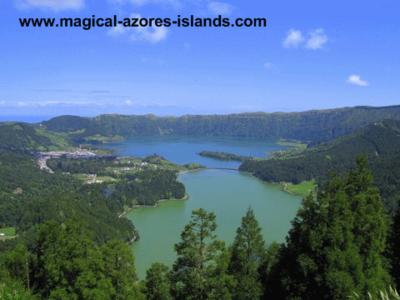 Sete Cidades
Our time is very limited. Our plane from Lisbon will arrive at 9:30am and our departure to Canada is at 4pm same day. What do you recommend to see and go within such a short time?

Rob's Reply:
Hi Margaret

I suggest hiring a taxi for 3 hours and getting a tour. Spend part visiting Sete Cidades (my pictures don't give the are justice) and consider a stop at the Santa Iria look out while out with your taxi.

A visit to Cha Porto Formosa (tea plantation) would be nice too if time permits.

Last but not least, the city of Ponta Delgada is close to the airport and very nice to walk around in for an hour or two. Ponta Delgada

If you would like a friendly, english speaking cab driver, call Ricardo at Amazing Tours:
http://www.amazingtours.se/ I have met him twice.

Hope that helps!??

Best Regards
Rob Belchior
Join in and write your own page! It's easy to do. How? Simply click here to return to Your Azores Questions.