Casa da Barca, Pico Azores Accommodations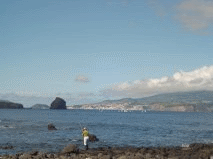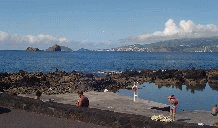 Casa da Barca is a private house that enjoys panoramic views of the Atlantic towards the Azores islands of Faial and Sao Jorge. This accommodation is conveniently located in the main town of Madelena on Baia da Barca (Barca Bay). This secluded bay is lined with Tamarix trees along the coastline, and dotted with a few traditional summer houses all facing the Ocean. Facilities in this area are a small port, BBQ, natural swimming pool, public showers, a small café and a popular wine museum.
This house is positioned only 10 meters from the coast! And the best part is that there is an ocean-filled natural swimming pool right in front of the house. This makes for the ideal family-oriented vacation. The neighborhood of Barca has excellent road systems for a walking, or a cycling holiday (the roads are flat and in good condition). For some guests, not renting a car may be an option. Walking to a café, swimming pool, parks, hiking trail and the wine museum makes this the right choice when considering an eco-friendly accommodation. Making this idea even more viable is that the ferry of Madelena is only a brisk 15 minute walk. This allows you to use the house as a home base for exploring Pico and doing some island hopping to Faial or St.Jorge Islands as well.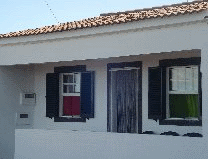 Casa da Barca is a private two bedroom house that can accommodate up to five people. There is one double room, 1 twin bedroom with 2 twin beds and an extra bed in the open-plan living room. There is a climate controlled air conditioner and heater for the comfort of the guests. The spacious eat-in kitchen has seating for 5 people and contains all the necessary equipment for cooking. A modern tumble washing machine and soaps are provided in the house for an efficient self-catering holiday. The bathroom has a separate hot shower and sink. Also supplied are all the linens, towels and even pool towels. Around the back of the property is a courtyard that is perfect for outdoor entertaining with lighting, sink BBQ and patio furniture. And completing this picture for a fabulous Pico holiday, next door is a small vineyard naturally leading up to the mountain for an astonishing view of the Pico Alto, The highest mountain in Portugal.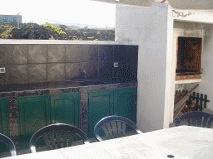 Casa da Barca is completely private, there is no sharing of any of the property or outdoor facilities with other guests; this ensures that guests have their privacy, peace and experience the nature and tranquility of the Bay of Barca. This successful self-catering accommodation that is privately owned by an Azorean resident for the purpose of sharing Pico Islands culture, heritage and providing guests with the upmost rich cultural holiday experience.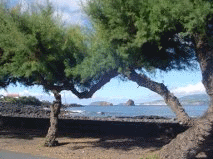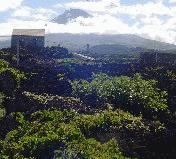 www.magical-azores-islands.com
More Pico Azores Accommodations
Top of page: Casa da Barca
Note: This page is based on information and pictures provided by the property manager - who we consider to be a trusted source