Aunt Gail and Uncle Franks Azores Photo Gallery, Part 2
This is part 2 of an Azores Photo Gallery. These are a select few shots of the Island of Sao Miguel Azores that my aunt and uncle were kind enough to share with us. You can use the following link to find part 1
Frank and Gail's Azores Photo Gallery Part 1
When you visit any of the Azores Islands you will notice that religion plays an important role in the lives of the Acorean people. There are prominent churches all over the islands. And depending on the time of year, you are likely to encounter festivals put on by the church. The church and surrounding streets are decorated with flowers and lights. This is an example of a church decorated for a festival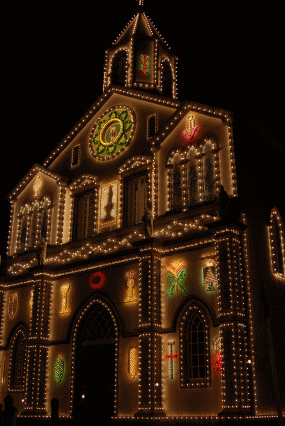 As you can see they are lit up beautifully at night when there is a festival on. And at the start of the festival the streets are often covered in elaborate paths of flower petals.
Some of churches on the islands are a out of the village and set high up on a hill. They offer a great view of the island. One such church is the Chapel of Nossa Senhora da Paz. It offers this great view of the town of Villa Franca do Campo: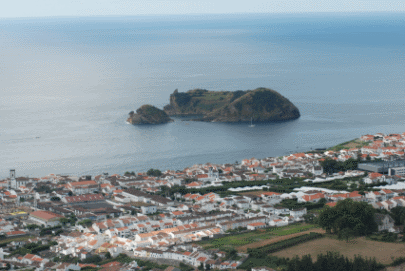 The little island out in the ocean, called Ilheu de Vila Franca, is a great place to sunbathe, swim and snorkel. The interior of the island, actually a crater, is full of salt water. Smaller fish from the ocean swim in its crystal clear waters.
A couple of scenic Azores photos from Frank and Gails Azores Photo Callery
This first one is a favorite area of the island to visit called Seven Cities (Cete Cidades). The picture is taken from the crater and shows Lagoa de Santiago in the foreground, Lagoa Azul and the village of Cete Cidades in the background. Lagoa Azul is one of the two main lakes in the Seven Cities crater. Lagoa Verde is not visible in this picture as it is behind the crater that lagoa de Santiago sits in. You have to walk or drive a little ways to get to the view that includes Lagoa Verde.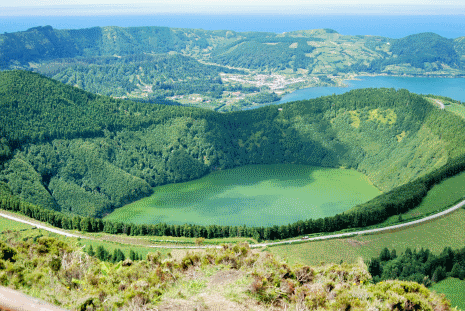 Another favorite spot to visit is what we call Fire Lake, Lagoa do Fogo. Aunt Gail and I both took almost the identical picture as we were there at the same time trying to snap pictures before a cloud came over and covered our view. This view is one of the highest points on the island and every time I visit the island I try to visit it. Every morning I look towards the mountain and if it is clear we hop in the car and go.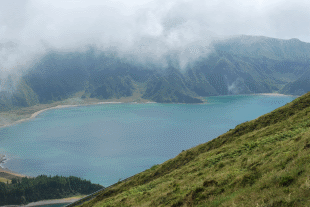 It was on this day in August 2008 that I took my first hike down into the crater to the shore of Fire lake. Three of us did it and it was probably a perfect day. It was a cool, over cast summer day with a bit of light rain. The hike down took about 20 minutes and we were rewarded with an amazing view of a totally undisturbed lake with nice beaches. The hike back up took, well, forever. But it was a good challenge. I do not recommend hiking down to Fire Lake unless you are in good physical condition. The steps are very roughly made and some are nearly a meter high (approx three feet). I look forward to doing it again!
More pics to come from Frank and Gail at Azores Photo Gallery part 3
Thanks Aunt Gail for sharing this pictures from your Azores Photo Gallery!