Aunt Gail and Uncle Franks Azores Photo Gallery, Part 3
This is part three of an Azores Photo Gallery. These are a select few shots of the Island of Sao Miguel Azores that my aunt and uncle were kind enough to share with us. You can use the following link to find part 1
Frank and Gail's Azores Photo Gallery Part 1
And find part two here
Common Azores Island Sights
Even when it is foggy and rainy the islands will give you great sights. The weather changes fairly frequently on the island so when it rains you can be pretty confident that it will pass. My family has a joke that if it is cloudy, foggy or rainy, you just need to drive to a different part of the island and you will get the sun you desire. Usually it does work that way for us. But even when it doesn't there is still lots to see and do, including the offerings of mother nature. Like this: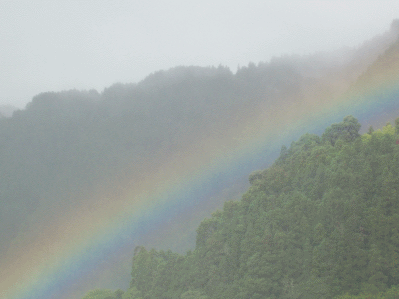 If you are wondering about the weather in the Azores, visit this page about Azores weather
Another common sight on the islands are waterfalls. The one pictured here is in Sao Miguel. I believe it is from the North East part of the island in an area called Achadinha (keep in mind that I didn't take the pictures on this page - Uncle Frank and Aunt Gail did.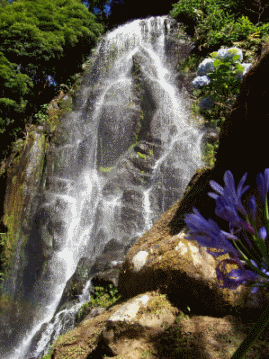 The following pictures from Frank & Gail's Azores Photo Gallery give you an idea of what it is like driving in the Azores
Even though the islands are small, it takes quite a bit of time to get around them. Many of the country roads are following the countour of the shore or the contour of the mountains. So they are curvy and hilly. If you look at a map and judge your driving time by the distance on the map you are likely to be way off. You need to take into account that most of the roads have many twists and turns that nearly double the distance of any drive. Plus you can expect delays for cows crossing the road, farmers on their carts, stops to see scenery and so on. But delays are okay! If you go to the Azores in a hurry to get from point A to point B you are missing the point. These islands afford a chance to explore, to slow down and to relax.
I mentioned that the roads have many twists and turns ... take a look at this picture giving warning of the curves and the slope of the mountain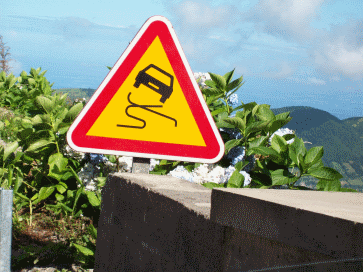 It is important to pay heed to these signs. As you wind your way up a mountain you will see many sights and might not want to pay attention to the road. But that's not a good idea as there is a turn every 30 meters or so.
A common sight on the islands are farmers with their carts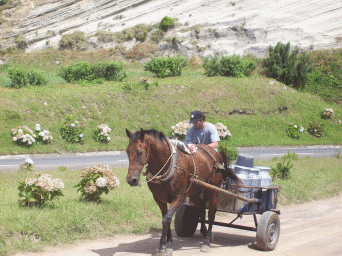 one minute you can be zipping along the road, then you round a bend and there's a farmer on a horse cart ahead!
I'd like to thank Frank and Gail Belchior for sharing part of their Azores Photo Gallery from their vacations to Sao Miguel Azores with us