Algar do Carvao in Terceira, Azores
Algar do Carvao exceeded my expectations on my only visit there so far. In fact, I might have skipped it altogether based on what little most Azores guide books have to say. One of the better descriptions simply says it is "formed by several caves, with about 100 metres of profundity, plenty of wonderful stalactites and stalagmites." If it wasn't for a cousin from Sao Miguel telling me that it is worth a visit I probably would have spent more time exploring somewhere else instead of going underground.
100 meters doesn't sound like a lot when you read it, but when you are 100 meters underground and go down so far you can't see sunlight anymore, it's actually alot. The building, pictured below, is the entrance to the caves. There is a ticket booth, gift shop, information area and washroom area. Nothing fancy, but comfortable and convenient enough.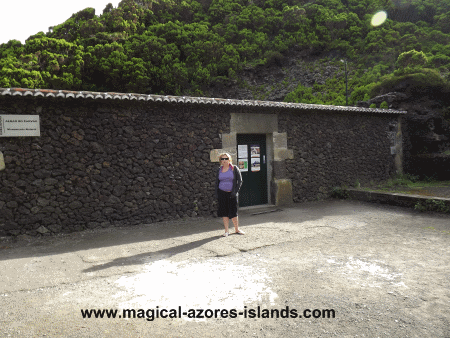 Once you go in and get your ticket, you go down a set of stairs and then head down this narrow passageway. It's cool, damp and a little confined in feeling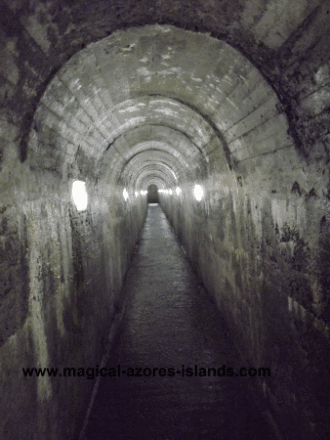 When you get out of the tunnel and into the cave you will likely hear birds chirping and feel water dripping on you. When you look up you will see the opening of the lava tube and the vegetation that has taken hold. To give you an idea of the perspective, the opening is 17 x 27 metres (approx 51 x 81 feet)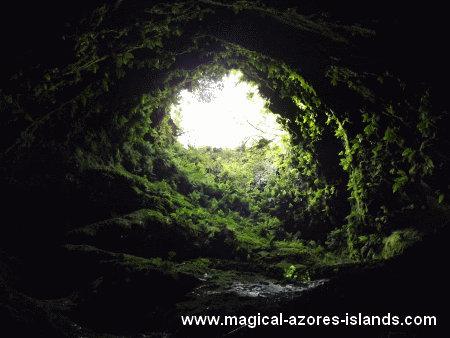 When you look down at this point you will think you can see the whole cave, but the fact is that there are many levels and flights of stairs to descend to get to the bottom.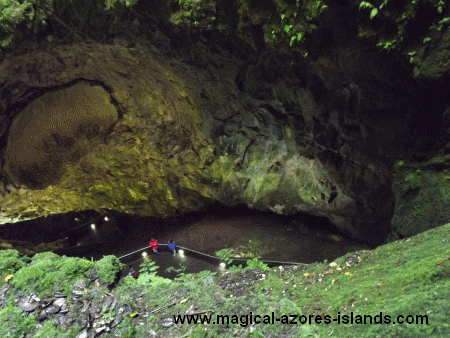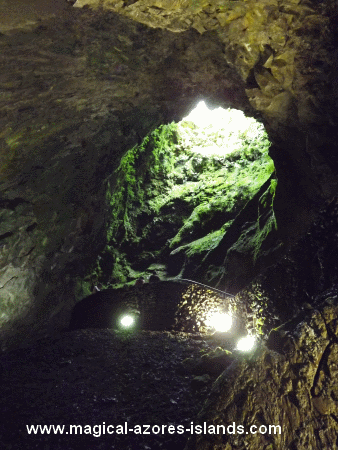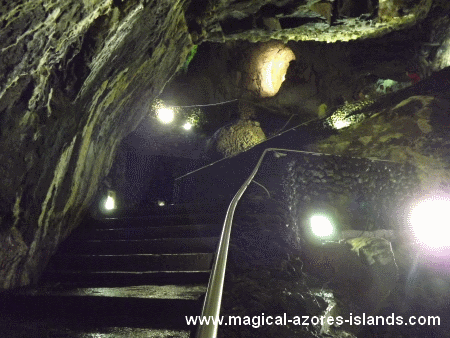 Notes about Algar do Carvao
Hours of Operation
March 26 - May 31: 1500 to 1730
June 1 - 30: 1430 to 1745
July 1 - Aug 31: 1400 to 1800
Sept 1 - Sept 30: 1430 to 1745
Oct 1 - 16: 1500 to 1730
There is a small fee to get in.
There is plenty of free parking.
--
I highly recommend visiting this cave on any visit to Terceira Azores
Click here to visit Magical Azores Islands home page (leave Algar do Carvao page)