Faial Caldeira
The Caldeira in Faial is quite impressive due to its size. It is about 2 kilometers in diameter and 400m from the top to the bottom. It is at the center of the island and is completely free of development. The caldeira is so massive that I had a hard time capturing the whole area with my camera. So I borrowed this picture from Wikipedia:


Photo courtesy of Weedonio on Wikipedia

There are several ways to get up to the top of Caldeira. We drove up a secondary road which was unpaved most of the way and full of twists and turns. Shortly before getting to the top we stopped at a lookout and had this nice view of the island with Sao Jorge (left) and Pico (right) visible.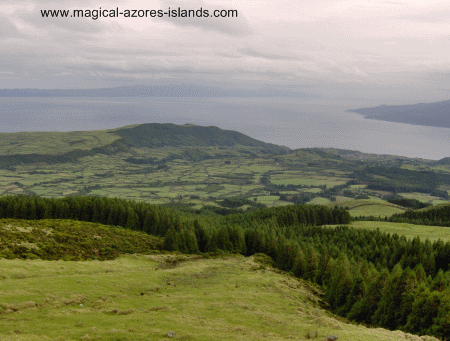 It takes about 30 minutes to drive up the winding roads to Caldeira. The top gives nice views of Faial as well as the neighbouring islands of Sao Jorge, Pico and Graciosa.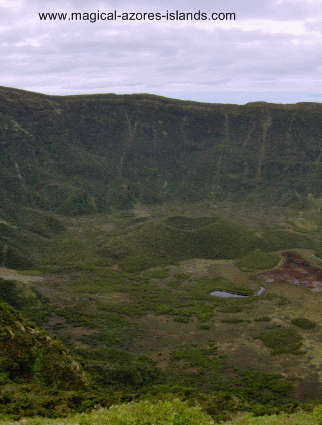 The Caldeira has hiking paths through it. If time permitted, I would have liked to hike down as I am sure the hikes would have been quite nice. There is a wide variety of plants and trees to enjoy.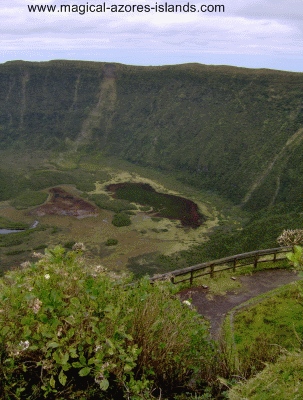 If you decide to hike in the area it is best to follow the marked paths and go with a friend or two as the area is fairly remote
Read more about Faial
Or visit www.magical-azores-islands.com for more links and information about the Azores Islands