Azores Weather November
Azores Weather November. What is it like in November in the Azores?
I spent ten great days in the Azores Islands in late November. I enjoyed many days of sunny weather and a few cooler, rainy days. Even the rainy days seemed to clear up at some point allowing some sunlight to brighten things up.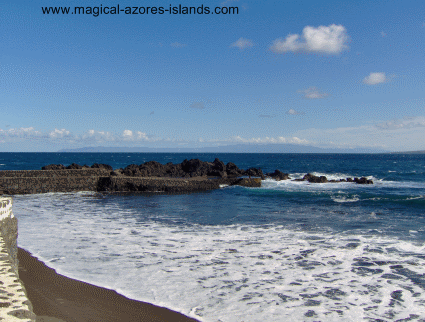 A bright sunny day: November 26 in Faial at Praia do Almoxorife. Sao Jorge is in the background

On most days I walked on a beach and dipped my feet in the ocean to enjoy the warm gulf stream current (the water is warmer than the air temperature). I noted on several occasions that people were surfing and windsurfing. And on two days I found people swimming and was tempted to do so myself as the temperature was near 20 degrees Celsius.
There was one day that I had a morning hike planned but there was so much fog and some rain that it was not going to be fun. And it was possibly dangerous since I did not know the terrain and it was quite foggy. But the day ended with sunshine and a nice sunset!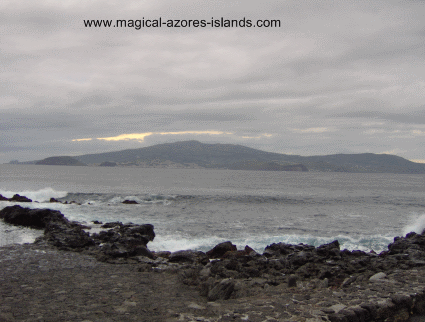 An overcast day: November 25 in Pico. Faial is in the background

What is the Average November Temperature in the Azores?
The average Azores November temperature is 16 degrees Celsius. The maximum is 20 Celsius and the minimum is 13 Celsius.
November is one of the wettest months of the year, second in rain to only January. And November brings the least amount of sunshine, tied with December, January and February.
I find the Azores November weather much better than what I get in Canada. And I have been very fortunate in my November experiences in the Azores. It is possible to have a week where it is mainly rainy, cloudy, and foggy. But that has not been my personal experience
Click Azores weather to find out more about weather in the Azores.
Return to Magical Azores Islands home (leave about the Azores Weather November page).