Azores Sailing Pictures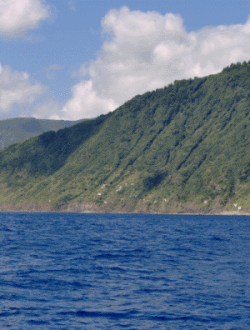 I took so many pictures on my first Azores Sailing trip that I needed this second page to show some more of my favourites (The link takes you to my account of that day on the water).
I found the view of the shore to be very interesting. You gain a whole new perspective when you view somewhere from the water. And you certainly see places that you would not have seen otherwise.
Take this picture on the right for example. The small white shapes on the side of the cliff, down by the water, are houses. These houses have no road access! I could stand to be corrected, but I don't think there is electricity at most of these homes either. The people lving in these homes are truly living a remote, old fashioned lifestyle. It was very interesting to see this.
The next two photos are from further out and show the coast of the island of Sao Miguel quite nicely. You can see several of the villages on the South-east part of Sao Miguel island in these two pictures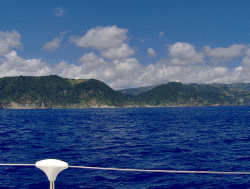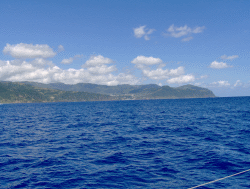 The way these two pictures above are lined up it looks as though it is one continuous panoramic shot. But they are not, unless by some stroke of luck I pulled it off accidentally!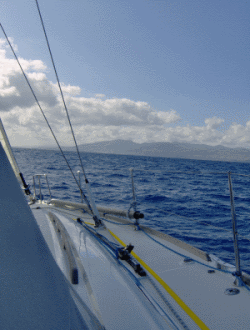 Towards the end of this day out on the water our captain received a radio call that there were whales a few miles out from our position. So he took out as fast as he could to see them. We did get close enough to see them bobbing in and out of the water. But not close enough for me to get any good pictures of the whales. But it was great to see them.
After we headed a few miles off shore to see the whales we were quite a distance from shore, this picture on the right shows a view of the island as we headed home.
Here are a couple of other sailing pictures that I personally like. The one on the right shows Portugal's flag on the back of the boat.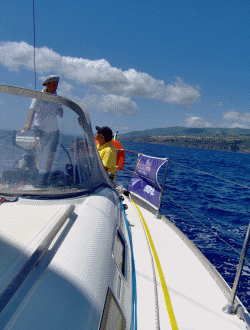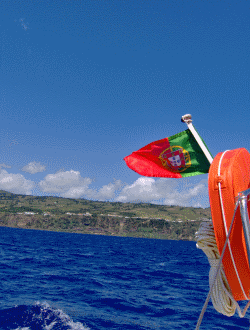 If you would like to read the story about this day out on the island visit Azores Sailing