A Taxi Adventure in Azores Pico - Quick Tour of the Island
In November 2009 I went on a Azores Pico Island Tour with a taxi that we hired for a half day tour of the island. The trip was a fast and very interesting experience. It was fast both in time and in the velocity that we traveled around the island at. I think I have some grey hair thanks to the hair raising experience! More on that in a minute ...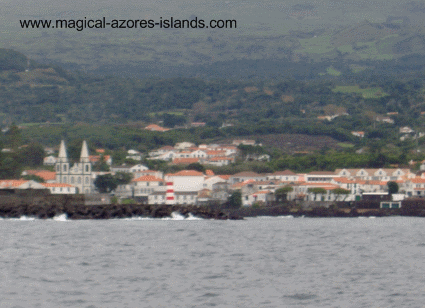 I was staying in Faial Azores for 3 nights and took a ferry to Pico, just for the experience. My intent was to spend an afternoon just walking around the town of Madalena. There were three of us on this little trip to Pico. Over lunch in a little spot by the port, we decided it might be fun to hire a taxi cab to give us a tour of the island. We only had a few hours until the last ferry was scheduled to go back to Horta (in Faial, Azores), so a knowledgeable taxi driver could surely show us some things we would not find if we rented a car for a few hours. After our lunch we walked back to the tourist information center and hired a taxi for three hours. The driver showed us a route that would cover about half of the island and get us back in time to catch the ferry.
The tour that we settled on was normally 4 hours in duration with several stops at points of interest along the way. We had just over three hours but the driver assured us we could do it in 3 hours with all the usual stops. It turned out he could pack in almost the entire island in just over three hours! I have to say it was quite an adventure accomplishing this feat of speed and I don't recommend that you go to Pico thinking you can see it all in three or four hours. Three or four days is much better.
Back to the pace of the taxi ride of Azores Pico... Picture going to your favourite theme park and riding the biggest roller coaster there for a few hours with a stop every 15-20 minutes. That's what this cab ride was like. There were numerous quick turns, up hill climbs followed by downhill sprints, blind turns and riding the edge of a cliff much of the time. I am not sure if it was exhilarating or nauseating! I thoroughly enjoyed the trip and would do it again.
As we toured the island the driver spoke to us in broken English and to my father in Portuguese. He took quite an interest in us and sincerely wanted to show us as much as he could.
This is why we ended up getting to much more of the island than we anticipated, he really wanted to please us and it was great. With our limited time we saw much more than we would have on our own in this unplanned trip around Pico Azores.
Azores Pico: Highlights of our Tour Stops
Porto do Cachorro Our taxi driver said this is the town of puppy. I am pretty sure Cachorro means dog but he didn't know the English word for dog, or he thought puppy was cuter. The town was really interesting for many reasons. There was a rock formation that looked just like a puppy, the architecture was very interesting, and the waves were pounding into a very jagged area of the coast.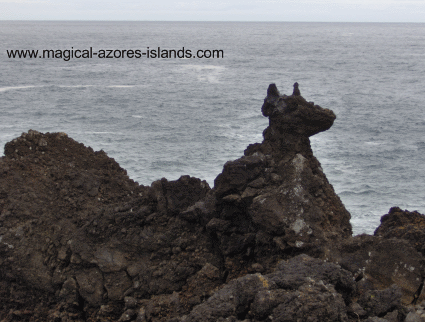 Santa Luzia Just past Cachorro was our next stop. An interesting town called Santa Luzia. There are several small whiskey factories there and we sampled some of the Fire Whiskey that is produced there. A water chaser is recommended!
Sao Roque The seaside town of Sao Roque featured a whaling museum, a small park and a natural swimming pool.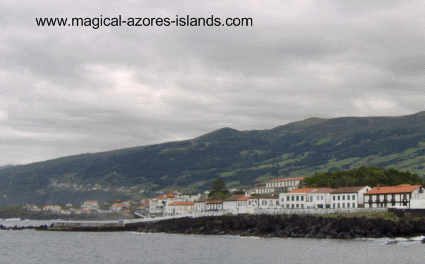 We then went up to Miradour somewhere above Sao Roque and enjoyed nice views of the coast
Santo Amaro From the Sao Roque Miradour we went up even higher and sped along a gravel road to a great lookout above Santo Amaro. From there we could see much of Sao Jorge and part of Terceira in the distance. It was a great view (and nice to catch our breath after the drive to get to that point!)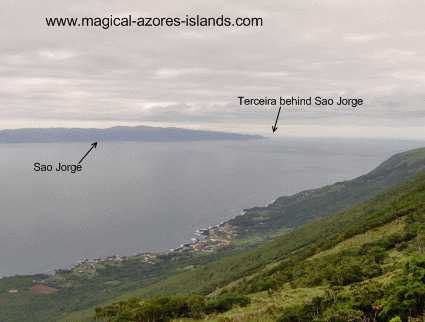 Azores Pico, Sao Jorge and Terceira
Lagoa do Ilheu and Lagoa do Peixinho While flying along the roads high up on the island we stopped above two interesting lakes. Lagoa do Peixinho means fish lake and I was told that there is a wide variety of fish of all different types and sizes. Apparently someone stocked the lake with a variety of fish many years ago and they do quite well there.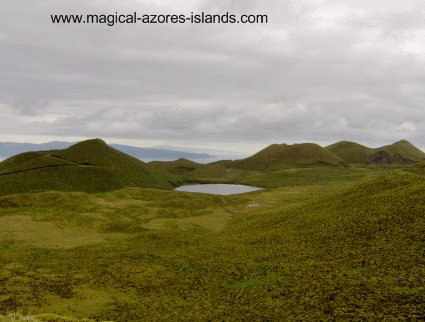 Sao Joao Park Sao Jorge park is a beautiful, large, wooded park along highway. It is very well maintained and a great place to stop as you tour the island or as a destination to enjoy a picnic.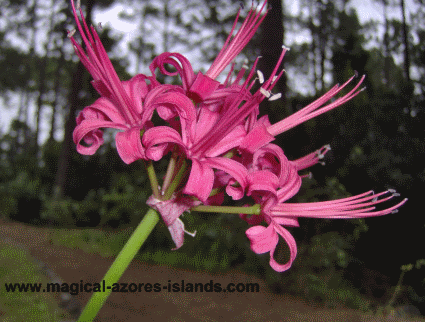 Sao Mateus We had a very quick stop in Sao Mateaus, I really found this tree quite interesting.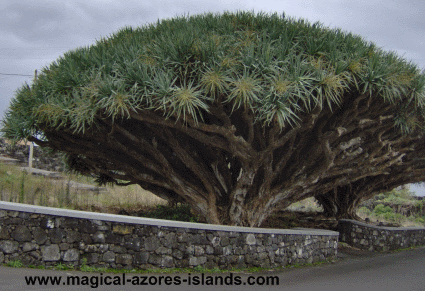 Criacao Velha Pico is famous for its wine and vineyards. Yes, and of course the mountain makes it famous. But the vineyards and wine are quite well known. Being from a wine region in Canada I found the way the vines are grown, in amongst rock walls, quite interesting. Read more about the area at Azores Pico Vineyards
This is a picture of Criacao Velha in Pico, taken with Faial in the background.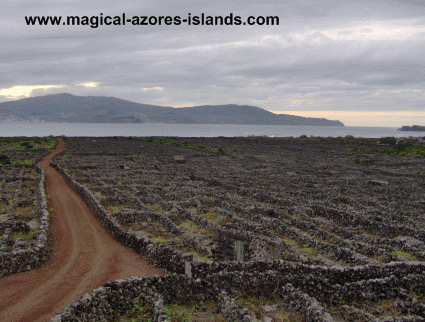 The Vineyard was our last stop before heading back to port and catching the Ferry back to Faial. This is a great island to visit and I recommend spending several days there to fully enjoy the Azores Pico experience.
Read more about Azores Pico or go to the Magical Azores Islands home