I don't know about you, but I sure wish I was in the Azores right now! Adding all kinds of pictures to the site this past month has made me anxious to go back soon. Not to mention that it is minus ten degrees celsius here in Southern Ontario, Canada, and plus fifteen in Sao Miguel. The funny thing is, I am sure the locals are complaining that it is freezing right now!
Last month I promised to add more pictures from my latest trip to the islands. I have added about 20 new pages in January and added pictures to many others. Every page I put on the site makes me want to go back soon. I hope you enjoy the pictures as much as I do.
In this Issue
Pictures!
Pictures ....
... from a hiking trip
... of the beaches
... of the cities, towns and villages
... of a fantastic garden
... from some great lookouts
... from a tour of Pico
Hiking in the Azores - Pictures
I had a great hike in Sao Miguel. Azores Hiking is a great experience. On the hike I went on there were a lot of great views and some very interesting plants and mosses. There are numerous well marked trails on all of the islands.
Azores Beach Pictures
Interested in the Azores beaches? I put up some pictures of the Sao Miguel Azores Beaches
Pictures of Cities, Towns and Villages
I focused on my pictures from Sao Miguel this month. I added pictures from
A fantastic garden
I am going to share some pictures of one of the best gardens in all of the Azores. I hope I do it justice. Only a small number of people ever see it: the garden at Quinta Das Acacias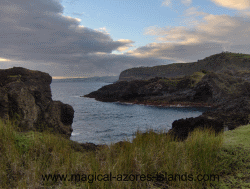 Great Lookouts and Views
The most recent page I did shows some great views of the islands. Many of them are from the great scenic lookouts: Azores Islands Pictures
Pictures From A Tour of Pico
Remember last month I wrote about my wild cab ride in Pico? Well, this month I added pictures taken on brief stops along the way. Most of them were taken while I was catching my breath .... Azores Pico Tour
One More New Spot For Pictures
Have you been to the Azores? I have added a spot for you to show off your Azores Photos.
I hope you have enjoyed the pictures here and that you will add a few of your favourites. (I am pretty sure a large number of subscribers have been before).
Oh, before I go, one more link to some of mom's pictures from November and December 2009: Moms Azores Photos
All the best,

Rob Belchior

PS for my family that subscribes: I did a page about a picture of my Great Grandfathers land in Sao Miguel. Take a look At my great grandfathers farm in Sao Miguel Azores
www.magical-azores-islands.com