Another Azores vacation has come and gone. Way too quickly I might add. Especially since I am writing this after coming inside from the freezing cold Canadian winter.
A quick check of the Azores weather tells me it is 14-15 degrees there. Guess where I'd rather be? You got it, the Azores.
I want to take a moment to wish you all the best in 2010. And I hope those of you who celebrate a holiday at this time of year had a great time with family and friends. I certainly enjoyed celebrating Christmas with my family.
At a Christmas party this past week I discussed the Azores with family and friends who were interested in my latest trip. One person asked me why I go to the Azores so often. The answer was easy: For all of the times I have been to the Azores I still find many new discoveries and beautiful things to see and great things to do. And yes, I do vacation elsewhere. But the beauty, tranquility and opportunity to explore always makes me look forward to a trip to the Azores.
In this Issue
New pages in December
A wild cab ride in Pico
What's new on the site this December?
After two weeks in the Azores Islands of Sao Miguel, Faial and Pico, I have 3000 new pictures to draw from and share with you. Since returning to Canada on December 5 I have been writing new pages and adding pictures to the site. Most of which are about Faial.
I only spent 4 days in Faial and I regret that I did not have more time there. When I booked the trip a travel agent said I could see the island in a day. I am glad I decided that a day was too short.
Faial's population is much smaller than Sao Miguel and the island itself is much smaller. So it is possible to drive all the way around the island in a day. But you miss so much when you hurry along trying to see everything. I prefer to savor the moments while visiting the Azores.
The capital city of Horta is an interesting city with a history going back over 500 years. Ships from all over the world dock in Horta, transatlantic flights used to stop there, and transatlantic underwater communication lines were first laid there. There are many interesting buildings that house cafes, restaurants and shops right by the marina. The marina is quite an interesting and colourful place. Read more about Horta here
While Horta is a cosmopolitan and busy little city, the other end of the island is very quiet but interesting in its own right. This end of the island features the spot where the last volcanic eruption in all of the Azores occurred: Capelinhos. The Capelinhos volcanic area is quite barren 5 decades after the 1957-58 eruption. An entire town was buried in ash with only a lighthouse surviving (although the first floor is buried). The light house is now a significant tourist attraction where you can go into an exhibit about the eruption and where you can best see the new land mass that was created by the eruption. The day that I visited was very windy and a sandy grit was blowing around like I was in a desert storm while I stood by the lighthouse. My hair was full of grit thanks to the wind. Despite the windy day I experienced, I highly recommend a visit to the area, it's remarkable.
I was very excited to take the drive up to the Caldeira in Faial. It is a recommended tourist attraction. The Caldeira can be reached by driving up any one of several roads to the lookouts. The Caldeira is a protected natural area that is nearly 2 kilometers in diameter and 400 meters deep. To tell you the truth, I was a little disappointed in it. I didn't spend a lot of time marveling over it like I have with other spots on the islands. Maybe I have been spoiled by seeing the beautiful areas of Sete Cidades and Lagoa do Fogo on bright summer days in Sao Miguel. Or maybe I was just tired and a little bit cool (it was a windy, overcast November day when I drove up). Perhaps I would appreciate it more if I hiked in the area. I don't know for sure. All I can say is it is not my top memory of Faial. I do recommend taking the drive up to see for yourself. And please have a look at the page I did on it: Faial Caldeira
Two spots that I can easily recommend are the beaches at Praia do Almoxarife and Praia do Norte.
Praia do Almoxarife is quite close to Horta and is a long beach that is quite sandy at one end, and quite rocky at the other end. Check it out here: Praia do Almoxarife
I have not written about Praia do Norte yet on the website. It is a beautiful and fairly secluded spot on Faial. There is a cliff behind the beach where waterfalls can be seen quite clearly. After a rainfall there are more of them along with rainbows. I stayed in a great cottage right by the beach. In fact, it is the only waterfront property in the area and I highly recommend it: Faial Accomodation . It is small but comfortable with two bedrooms. At night it is quiet except for the sound of the waves and the sky is dark which great for watching the stars. This is a great place to stay if you go to Faial.
There is much more to write about Faial over the coming months. And I am looking forward to putting pictures of the marina on the site shortly. In the meantime, if you want to see more of my pictures from Faial: Azores Images Faial
Some Other Notable New Pages
Mosteiros in Sao Miguel.
A page about a good place to stop and enjoy the ocean pounding the North Coast of Sao Miguel: Capelas Lookout
Wondering what the Azores weather in November is like? Click the link to read about it.
A wild cab ride in Pico
During my stay in Faial I was determined to get to Pico as well. There is a ferry running several times each day and I took advantage of the cheap fare and 20 minute ride one afternoon. My parents joined me and after having lunch in Madalena, Pico, we decided to hire a taxi for a tour of the island. Normally we would have rented a car and explored at a leisurely pace on our own. But we only had 3-4 hours until our ferry ride back to Faial and knew that a taxi tour would be most efficient to get a taste of Pico Island. So we found a friendly taxi driver who spoke reasonably good English (he had lived in Canada for over a decade) and he showed us a tour he could do in 3 hours, having us back in time to catch our ferry ride.
He took a liking to us when he realized we were Canadians and that dad was originally from the Azores. He became determined to show us more of the island than was outlined in his tour book while allowing plenty of time for stops. Guess what that meant? Speed! He was not afraid to go fast in order to take us further than we bargained for. His taxi was a Mercedes with over 900,000 kilometers on it. As we drove up and over a steep mountain pass that was unpaved and narrow I could smell something burning. I imagined the breaks failing as we speedily rounded any one of the blind curves on the mountainside dirt road. All the while our driver was speaking in a booming voice to my mother while pointing down the cliff telling her where to look. "Watch the road" was the thought screaming in my head! This is the only time I remember getting nauseous while driving. It was like being on the biggest roller coaster for nearly 4 hours with a few small breaks. The tour ended with out incident and it was a great day that makes me want to go back to Pico for several days sometime. Hmm, there was one incident involving mom trying some fire whiskey at a distillery tour. But I think she wants to keep her near death experience quiet (sorry mom, ha ha ha).
I really did enjoy the cab ride and would recommend the driver. He's a good guy who tried hard to ensure we had a great tour.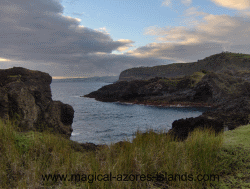 Coming in January ... Pictures!
Stay tuned, the January edition will feature pictures, pictures and more pictures
All the best,
Rob Belchior
www.magical-azores-islands.com