People who only make it to Sao Miguel Azores once in their lifetime, or once every so often, typically don't get out and see some of the areas that I will mention in this e-newsletter. The guidebooks tell us about beautiful spots like Sete Cidades, Lagoa do Fogo, Parque Terra Nostra, Furnas and Ponta Delgada (which are must see places of course). But most don't make mention of the hundreds of hidden gems that are there for discovery and further exploration. Sadly, most people try to jam the Azores into a short time and miss so much. So today I am going to point out a couple of those hidden little spots that hardly anyone visits. And I'll provide a few links to the must see places listed above in case you are planning your first trip.
The area that I am writing about today is on the North coast east of Ribeira Grande and west of Achada and Nordeste. Along with the must see places noted above, many people will visit Ribeira Grande and Nordeste. But most will completely bypass some beautiful spots because of a new highway that has recently been completed between Ribeira Grande and Nordeste. Prior to this new highway, which features some impressive bridges crossing deep drops, there was a highway that followed the contour of the land and passed close by to the coastal fishing towns. The new highway is a little further inland and very direct, which cuts the journey to Nordeste in half or more.
Hidden Gems On The Northeast Coast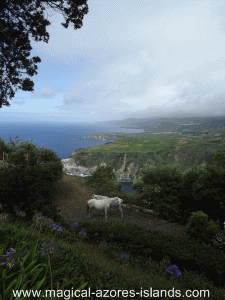 Santa Iria, Sao Miguel Azores

Azores Lookout of Santa Iria

Ponta do Cintrao is a beautiful scenic lookout that I have written to you about once before.

Maia features a pretty beach

Lomba da Maia Lomba da Maia has a nice scenic lookout and a hike to one of the best beaches

Gorreana - this is the location of one of two plantations in Sao Miguel. In fact, these are the only two in all of Europe.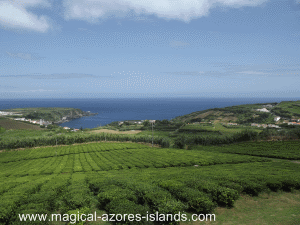 Porto Formosa
Porto Formosa - Porto Formoso is the site of the second tea plantation in the Azores. The tea plantation offers beautiful views and the town has an attractive beach Porto Formoso.
Must See In Sao Miguel Azores
Only going for a short time? Here are a few must see places:
Sete Cidades - Sete Cidades

Lagoa do Fogo - Lagoa do Fogo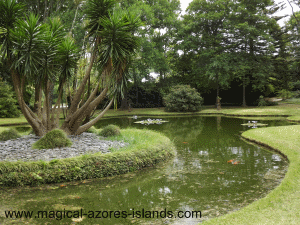 Parque Terra Nostra, Sao Miguel Azores. Photo by Miranda

Furnas, including the beautiful Parque Terra Nostra - Furnas

Ponta Delgada - Ponta Delgada - see a recent update at Ponta Delgada at Night
What others are saying about the Azores this month
The Guardian posted about the Azores top ten

Daily Stroke wrote about a Azores surfing vacation

www.sacredrides.com wrote about "finding paradise" and mountain biking in the Azores

Adventurer Ben Fogle in Wanderlust Magazine: Wanderlust article about Acores

Even Fodors wrote about the Islands in its Fodors Go List 2013
And Family Travel mentioned the Azores as a great spring trip for families.

Have any Questions About the Azores?
Chances are others have the same question! Please ask any questions you might have at: Magical Azores Islands Comments and Questions. Of course, you are also welcome to reply to this email as well!


See you again soon!


All the best,
Rob Belchior
www.magical-azores-islands.com