Welcome back to www.magical-azores-islands.com. If you have been to the Azores you undoubtedly know why so many people love this enchanting archipelago of 9 remote islands. If you are just planning your first trip you might be wondering if you will enjoy your visit. I love the islands and think you will too. To help you see why I love the islands, I have summarized a few key points that I love about the islands, and included links to new pges, updated pages and some favourite pages.
Why Do I Love The Azores?
The Lifestyle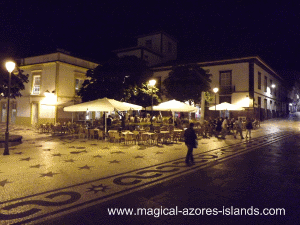 Relaxing in cafes and outdoor patios (like the one pictured here), barbecues at scenic lookouts, beaches (see the updated Sao Miguel Azores Beaches page), and the relaxed quiet lifestyle.
The Hiking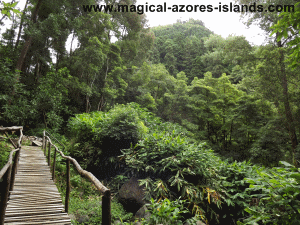 Photo by Miranda
There are many great hikes here. Take this hike in Faial da Terra as an example.
The Ocean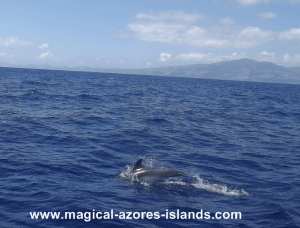 When you are on an Atlantic Ocean island, thousands of miles from anything, the ocean is a focal point of your life. Whether it is simply being aware of the sights, sounds, smells and ocean breeze, or if you go swimming, sailing, surfing, fishing, diving or whale watching.

If you haven't yet, read about a great day of Sailing in the Azores. We repeated this experience in 2011 and saw an unbelievable number of dolphins, one of which I captured in the picture above.
The Gardens and Flowers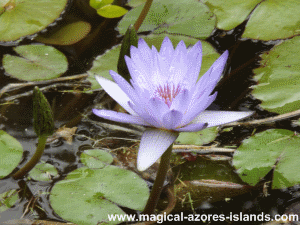 Photo by Miranda
See some pictures of the wide variety of Flowers.

And read about another interesting park: Pinhal da Paz
The Historic Towns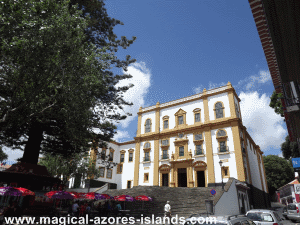 Ponta Delgada
Horta
Angra do Heroismo
Recommended Page
In addition to this newsletter, I recently posted a page about why I love the Azores. You are invited to check it out and add comments (and pictures too!) at the bottom.
Why do you love the Azores Islands?
Share why you love the Azores on this page: Azores (click and share your thoughts near the bottom of the new page).
Have any Questions About the Azores?
Chances are others have the same question! Please ask any questions you might have at: Magical Azores Islands Comments and Questions. Of course, you are also welcome to reply to this email as well!


See you again soon!


All the best,
Rob Belchior
www.magical-azores-islands.com