Thank you for joining me again! Your interest in the Azores and the www.magical-azores-islands.com website is very much appreciated.
Each of the nine Azores Islands have so much to offer that I sometimes get overwhelmed on which of a thousand ideas I should write about on the site. I personally enjoy adding pictures and stories and there will be no shortage of that month after month.
I realize that many people are coming here looking for travel tips and practical information. With that in mind I have been allocating more time to thinking about all the little things that a first time visitor needs to know and incorporating that on the site as well. So in the coming months I will add links to more practical information to balance out the pictures and stories.
In this Issue
Graciosa - the Island of the Calm
Azores Hot Springs
The current weather
Graciosa Island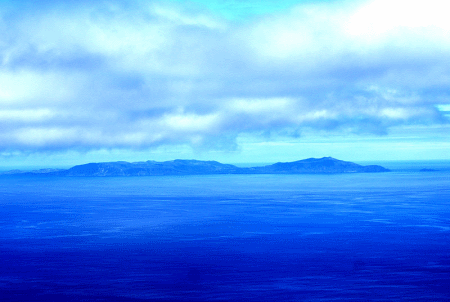 Photo courtesy of Luissilveira on Wikipedia


Graciosa is a charming little island in the central group of the Azores. The central group consists of Pico, Faial, Sao Jorge, Terceira and Graciosa. Graciosa is the smallest of all of them both in square kilometers and in elevation. It is a wonderful place to go and get away from it all due to it's tranquil, quiet nature.
The landscape is very rural, full of green pastures, whitewashed houses, old windmills and other elements of the farm life. This certainly isn't a place to go for nightlife or a shopping trip (unless it is wine or cheese). It is a place to go to slow down and savour a different way of life.
The top attraction on the island is simply remarkable. Furna do Enxofre is a cave located in the Caldeira of Graciosa. To get there you must enter the Caldeira passing through a tunnel and then descend down a spiral staircase some 184 steps to the floor of a cave. In total it is 100 meters down into the cave. Early visitors to Furna do Enxofre, like Prince Albert of Monaco, had to visit the cave by descending a rope ladder. Inside the cave there is an underground lake that is 130meters in diameter. Thankfully more tourists can see this amazing spot now that there is the tall winding staircase down.
Other attractions in Graciosa Island include the towns of Santa Cruz, Praia, and Carapacho. Carapacho is well known for thermal waters at spa that is said to have healing qualities for many ailments. And the town of Praia is named for its nice sandy beach that is quite popular in the summer months.
If you enjoy diving or snorkeling, Graciosa is said to have excellent waters all around for these activities.
All in all, Graciosa is a small island that offers, beauty, tranquility and opportunity to explore.
To read more about Graciosa, please visit any of these pages:
A page about Graciosa Island
For pictures: Graciosa Azores Photo Gallery
And for a map: Graciosa Map
Azores Hot Springs
I recently added a page about the hot springs in Sao Miguel and thought I would share it with you.
The Azores Hot Springs are best seen in the Furnas area of Sao Miguel.
Every time I go I find it amazing that there is boiling water coming out of the ground just meters away from where people live. And there are spots where you can walk but also notice that earth is allowing steam to bubble through the very ground you are standing on. If you have not had a chance to read about it before, check out my day at Furnas Lake where I first noticed that the lake has a long line of bubbles rising from its depths. This is also the area where one can enjoy a Cozida. A Cozida is a stew cooked right in the ground by the hot steam of the volcano.
Don't miss the hot springs when you go to the Azores Islands. Words, pictures and even videos can not describe them adequately
The Weather in Sao Miguel
Back to some of the practical bits of information that people look for in planning a trip to the islands, I have been adding many pages about the Azores weather. The most recent of which shows the current temperature in Sao Miguel. Find it at Sao Miguel Azores Weather
The weather there in February has been rather cool and damp. (But still no snow like I am seeing here in Canada). I heard that December was very windy and cool as well. This is typical from December through February.
Next Issue
In next months issue I plan to write more about Pico Island, with a focus on the wine region of Pico. And I will add some more practical information that will help to plan a trip
All the best,
Rob Belchior
PS Have you been to the Azores? I have added a spot for you to show off your Azores Photos.

PPS I know, I know ... you're getting the February edition on March 1. I got a little carried away enjoying the Olympic games this weekend ...
www.magical-azores-islands.com