In the past I have posted pictures and written about the beaches in Sao Miguel Azores (see Azores Beaches and Sao Miguel Azores Beaches). Since I am fresh off some visits to three Faial Beaches, and had a great time at each of them, I thought I'd share a bit of information about the beaches there.
If you love beaches, I can tell you that Faial is a great place to visit. Keeping in mind that the best time for beach weather in the Azores are the summer months.
Praia do Almoxarife

Praia do Almoxarife, Faial

There's something about this beach I really love. It is a long and pretty beach that offers fabulous views of Pico island. The surrounding village is well kept and the nearby geography is appealing. Not to mention the convenience of a few little restaurants right at the beach. See more at Praia do Almoxarife
Praia do Norte (Faja)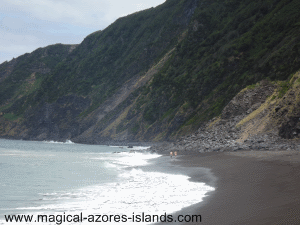 Faja, Praia do Norte

I have enjoyed two wonderful stays at a little cottage in the Praia do Norte area, also known as Faja. The area has a beautiful, secluded beach. It's a fabulous spot that I first wrote about in a winter trip a few years back (please read: Faial Accommodation in Azores. In the summer, it's just as good there, if not better!
Porto Pim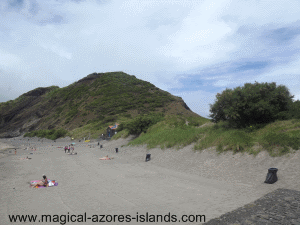 Porto Pim in Faial

Porto Pim beach is well situated in a bay between the City of Horta and Monte da Guia. The sand is white and soft. And the water is fairly shallow for quite a way out. This is a great place for parents thanks to the sheltered bay and the relatively shallow water. The beach offers nice views thanks to natural physical geography and the old town as well. It's also well equipped with change areas and washrooms. There is convenient nearby parking if you are driving in from outide of Horta (either in Horta, or on the way up to Monte da Guia)

--
There are a few other swimming spots in Faial. Including the natural swimming pools in Varadouro as the most notable that I omitted. But if you love the beach, start with the three above!
Have any Questions About the Azores?
Chances are others have the same question! Please ask any questions you might have at: Magical Azores Islands Comments and Questions. You are also welcome to reply to this email as well!

Magical Azores Islands Social Media
Our Facebook fan page continues to grow www.facebook.com/magical.azores.islands
Twitter account @MagicalAzores
Pinterest: pinterest.com/magicalazores.

See you again soon!


All the best,
Rob Belchior
www.magical-azores-islands.com

PS comment and share pictures here: www.magical-azores-islands.com, Your Azores Islands Magic