Since I last wrote to you I have been quite active on some new ideas for www.magical-azores-islands.com. Based on emails and social media feedback that I receive it seems that many people just can't get enough of the Azores, just like me. So today I am writing to you about more ways to get information on this beautiful archipelago. But first, a picture courtesy of Ricardo Marques: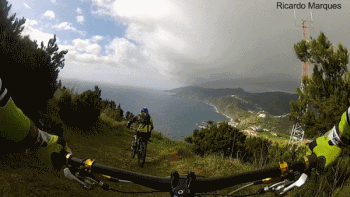 You will find more like this in the links below.
Over the coming months I will be updating many pages on the website and using a new gallery feature. New pictures added to the site will be a larger size and or higher quality. And the gallery will allow you to click the picture and go through the page's gallery all at once. To see what I mean, please visit this updated page: The Azores Islands. Any fan of the islands should enjoy the photos on this page.
Something else you will notice on this page is links to the Facebook fan page www.facebook.com/magical.azores.islands and the Twitter account @MagicalAzores.
You will find many quick notes and picture updates if you follow these social media sites. And I have also started developing a Pinterest presence with 15 boards to date: pinterest.com/magicalazores. The website will always be the primary focus, but I find the social media to be useful as an additional way to share and connect.
Select New Pages Since The Last Issue
I wrote about Mountain biking in the Azores. Check the page out even if you aren't into biking as some of the pictures are fabulous
Are you of Azorean heritage? Read about finding info on ancestors.html
And read this post page by a guest to the website (Beautiful pics here too) https://www.magical-azores-islands.com/azores-stays-in-your-heart-forever.html

What others are saying about the Azores recently
Highly recommended page: "Honeymoon in the Azores" http://www.merrypad.com/2013/03/01/honeymoon-in-azores/ I quote: "This place was pretty remarkable."

A video from January 2013: http://vimeo.com/60274538

A stunning youtube video of diving in the Azores: https://www.youtube.com/watch?v=h3k32GmO8zg

A video with aerial views of Terceira https://www.youtube.com/watch?v=JZR3aNL5nCo

An article by the Sun (UK) on whale watching in the Azores http://www.thesun.co.uk/sol/homepage/travel/4808689/Whale-watching-in-the-Atlantic-Ocean-by-Portugese-Azores.html

A video featuring surfing in the Azores https://www.youtube.com/watch?v=cHamQxPppio&feature=youtu.be

"Just my cup of tea: An island-hopping adventure in the very verdant Azores" http://www.dailymail.co.uk/travel/article-2269663/Holidays-Azores-An-island-hopping-adventure.html

NBC Islands magazine -http://www.nbcnews.com/id/10043006/#.UUfFcjebWKI

Have any Questions About the Azores?
Chances are others have the same question! Please ask any questions you might have at:

Magical Azores Islands Comments and Questions. Of course, you are also welcome to reply to this email as well!


See you again soon!


All the best,
Rob Belchior
www.magical-azores-islands.com

PS comment and share pictures here: www.magical-azores-islands.com, Your Azores Islands Magic