The eastern tip of Sao Miguel Azores is well worth a visit if you can manage a day trip out there. Of course, there are accommodations at this end of the island as well so you could stay there for more than just a day and really see all that this end of the island has to offer.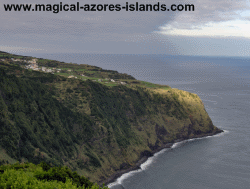 Although Sao Miguel is only 65 km long by 15 wide, a trip to Nordeste and area is a journey. For centuries, it was best reached by boat as the trip was too difficult to make by land. Over time, foot paths were carved, then donkey paths, and eventually horses and carts. But even then, it was a long way to go and boat was usually preferred. For this reason, the Nordeste area has often been referred to as the tenth island. Only in more recent history has travel by land been made more practical. I recall that quite a number of years ago I started out from Ponta Delgada (centre west of the island) and drove to Nordeste. "As the crow flies" it should have been 40-45 km, but we drove nearly double that distance thanks to the winding roads that followed the contours of the mountains.
Very recently, much improved roads and bridges have been built, cutting the driving distance down substantially. So it is practical to check out the eastern end of the island in a day trip. But even so, it will be a full day if you plan to see most of what I mention below.
What to See On The Eastern Tip of Sao Miguel
Achadinha
Found on the Northeast part of the island, Achadinha is a popular spot for tourists to stop in to take pictures and see one of the few remaining mills on Sao Miguel. The waterfall pictured here is the main one to see. But there are others worth checking out as well if you take the time to walk the grounds.
There is a small cafe on site and a gift shop as well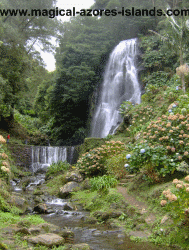 See more at Achadina in Sao Miguel Azores.
Nordeste
Nordeste is a pretty little town that features a seven arched bridge and a central square with an attractive church (much like most towns in the Azores). It is an area of the island that not too many tourists reach. But it is well worth it and easier than ever. There are many parks and gardens to take in at this end of the island and Nordeste is no exception.
Once leaving Nordeste, you can choose to follow the coast to see scenic lookouts like the ones at Arnel, Sossego and Madruga. Otherwise, you can go through the mountain route of Serra da Tronquiera through to Povoacao. The mountain route takes you to Pico da Vara which is the highest point of the island at 1105m (read more below)
Ponta do Arnel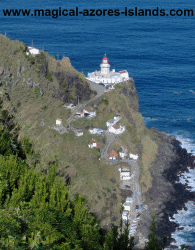 Ponta do Arnel is on the eastern tip of Sao Miguel Azores and features a beautiful view of the ocean. You can drive down the the lighthouse pictured here. The road down is a bit steep

You might be interested to know that between Ponta do Arnel and Faial da Terra there are important nesting areas for the Common Tern and the Shearwater
Sossego
Miradouro da Ponta do Sossego is a beautiful picnic area complete with gardens and scenic views. Please have a look at the link as the gardens are beautiful.
Madruga
I have read other accounts that this is the must see stop at this end of the island. While Madrugada Miradouro Azores is nice, I really think that Miradouro da Ponta do Sossego is the better spot to stop. Perhaps the others saw something I didn't, or perhaps they missed Sossego. I guess you will have to stop at both and see for yourself!
Faial da Terra
Faial da Terra is an area that I haven't spent much time in on any of my trips to Sao Miguel Azores. I plan to spend more time there shortly as it is an area that has plenty of natural beauty. It is nestled down by the sea with the mountainous terrain and a couple of wonderful hiking trails. Pictures to follow in a future edition.
Serra da Tronquiera
You can cross Serra da Tronquiera instead of following the coastline between Povoacao and Nordeste. On a day with good weather, and no fog impeding the route, you might wish to take this route. If there is any hint of bad weather or fog, don't attempt this route. There will be nothing to see and the drive will be stressful, if not dangerous.
Povoacao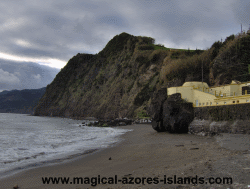 Povoacao is the site of the first settlement in Sao Miguel. There are beautiful views here and interesting buildings. There is a hotel right by the small beach in town.
Just a couple more pictures at: Povoacao.
What Have You Discovered on The East End (Nordeste area) of Sao Miguel?
Please comment and share pictures here: www.magical-azores-islands.com, Your Azores Islands Magic
Have any Questions About the Azores?
Chances are others have the same question! Please ask any questions you might have at: Magical Azores Islands Comments and Questions. Of course, you are also welcome to reply to this email as well!


See you again soon!


All the best,
Rob Belchior
www.magical-azores-islands.com