When visiting the Furnas area of San Miguel, it is well worth checking out Terra Nostra Park. This beautiful park is an easily overlooked gem well worth exploring. It is open all year round and is situated right in the pretty town of Furnas.
The park is quite large and has many well manicured pathways on several different elevations. There are gentle slopes over a long way to get up and down, and there are staircases cut into the small hills to take faster routes between the levels of the grounds. Each area has well manicured grounds, a variety of trees and shrubs as well as some man made features. At different times of the year, there are different flowers in bloom.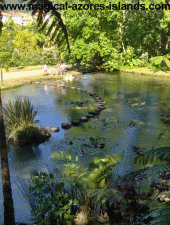 The park has numerous streams that gently flow alongside many of the pathways through the gardens. The picture to the right is of a pond that is really quite beautiful to see in person. My picture doesn't do it justice at all. For a better view go take a look at the links on this page to Terra Nostra Park.
The pictures on that page are from a visit in early spring some years ago. Pictures featured on other pages about Furnas (in the links found further down in this newsletter) show large blue hydrangeas. They are typically in bloom in the summertime.
Terra Nostra also has several man made features like the fountain pictured here. There are also bridges, a couple of shelters, and of course the pool that is filled with hot mineral water, making it a treat to relax in at any time of year. Close to the pool are small, private change rooms that are kept clean and tidy.
Oh, and I nearly forgot to mention the sculptures in the park. I had visited the park a few times before I finally stumbled across them. There are about a dozen, in the shapes of all types of animals. There are elephants, kangaroos, apes and even a dinosaur. I have no idea how long they have been there, but they are amusing to look at.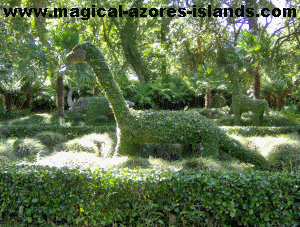 For a picture of the pool, as well as more inormation and pictures from Terra Nostra Park, take a look at: Terra Nostra Park in Sao Miguel Azores. There's lots of pictures there
Read More about the Furnas area:
For a general overview of the area: Furnas
Furnas Hot Springs (Caldeira's):
The caldeira's are really interesting to see in person. I highly recommend visiting the area.
Furnas Lake: Read about my "discovery" of volcanic activity while out on the water.
Furnas Cozida: have a meal cooked by the geo-thermal activity. This page was recently mentioned on Forbes.com. When I wrote it I never imagined more than a handful fo people would discover it. And now hundreds (if not a thousand) have visited in a day or two.
One More Recently Featured Page
Okay, One more "mentioned page" ... featured might be exagerating! But this page about Caldeira Vehla was recently mentioned in the http://www.guardian.co.uk website: Caldeira Velha Sao Miguel. This is always a good place to stop in at for a short walk and maybe a quick soak in the water. The water is warm, even in the cooler months of the year
Have any Questions About the Azores?
Chances are others have the same question! Please ask any questions you might have at: Magical Azores Islands Comments and Questions. Of course, you are also welcome to reply to this email as well!


Thanks, as always, for your interest in www.magical-azores-islands.com.

See you again soon!


All the best,
Rob Belchior
www.magical-azores-islands.com