When thinking of Western Europe, most of us don't consider the Azores Islands as the westernmost point. But the towns on Flores and Corvo are the most western points of all of Europe. They are so far west that they lie on the North American plate. But make no mistake, these are European islands to be sure.
Not only are they the furthest west, but they have to be the most remote as well. Corvo and Faial are 24 kilometers from each other, 3300 kilometers from Boston Massachusetts, 1900 Kilometers to Lisbon, and 250 kilometers to Horta, Faial and the Central group of the Azores Islands. Right out by themselves in the Atlantic Ocean. Despite the distance from mainland Europe, the islands were settled in the late 1400's and soon became a stopping point for pirates and corsairs
So if you want to get away from it all in the Azores, Flores and Corvo are two good choices. With small populations (Corvo's population hovers around 400 and Flores is under 4000) There aren't alot of choices of where to stay and what to do. Flores has several hotels and guest houses to stay at, where Corvo only has a couple of guest houses. So solitude in a beautiful location is easily achieved on either of these wonderful islands. There are some scenic walks to go on, friendly locals, opportunities for diving and a beautiful landscape as you will see in the pictures below.
If you go to Corvo or Flores in the winter, plan an extra day or two in your itinerary in case of bad weather. There are times where the weather is too rough for boats or planes to go in or out from the islands. Usually these conditions pass in a day or two, but it is wise nonetheless to plan for that possibility. In the summer months this is generally not an issue to worry about. The bad weather concern can be true at all of the islands in the winter, but Flores and Corvo are accessed by smaller airplanes so the level of caution needs to be higher.
Pictures
Flores, the town of Cedros, with only 150 inhabitants - beautiful coastline view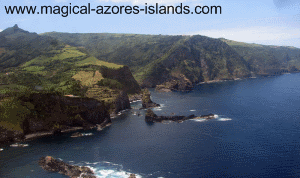 From Wikipedia
The town of Vila Nova do Corvo with Flores in the background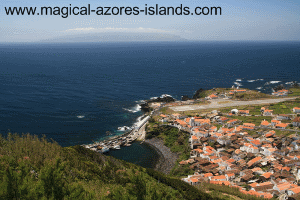 From Wikipedia

The town of Ponta Delgada, Flores, with Corvo in the background. Imagine the old days when the only means of communication was by fire and smoke signals!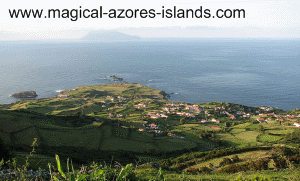 From Wikipedia

At Lajes, Flores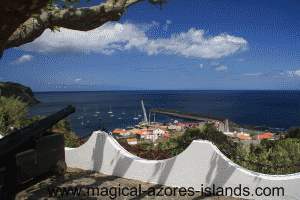 From Wikipedia
See Way More Pictures of Flores and Corvo
Look at these great Flores Azores Photos and pictures of Corvo Island
And Read More:
See you again soon!
All the best,
Rob Belchior
www.magical-azores-islands.com
PS The Magical Azores Islands has over 1200 fans now. You can become a fan too at: Magical Azores Islands Facebook Fanpage
Thanks for sharing this site, and all of the Azores, w ith your friends.
PPS
Practical Azores Information
I am using TripAdvisor information and reviews on the website. This will help anyone planning a trip to find Azores hotels. There is still a lot to do with this but you can find the first live page at Azores Hotel.
Looking for Azores Maps:
You can view a map on the Magical Azores Islands website at: Azores Map
Or you can buy one of the following maps:
Current Azores weather conditions Sao Miguel Azores Weather