Beautiful Sete Cidades!
In this issue
Sete Cidades - information and links
Sete Cidades - pictures not on the site
Facebook
Practical Information
Sete Cidades
I hope you will forgive me! ;-)
Up until this point I really haven't shared anything about my favourite place in Sao Miguel: Sete Cidades.
This maginificent place is a must see on any trip to the Azores.
It's a huge volcanic crater filled with beautiful lakes, a small village, and has lush vegetation softening a fairly rugged landscape. One legend about the area is that there were once seven cities there. Legend has it that the seven cities were destroyed by a massive volcanic eruption. I have no idea if it is true, but it sure makes a good story as to why the area is named Seven Cities (Sete Cidades).
There are a few pages about the area on the website at:
Sete Cidades Azores Pictures
These are pictures that you won't find on the website:
A picture from Canary Lakes lookout (the green lake in the foreground is not the famous green lake of Seven Cities: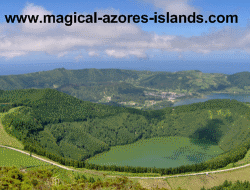 A view of the village:

A peek inside the church.

Do you recognize this hydrangea? They grow very well here and this one in particular is in the header of the website (look top left of the site)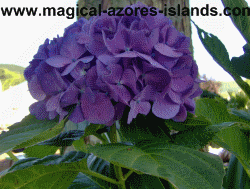 A great picture of the crater road:

Courtesy of MRA Photography

Did you know that you can submit pictures too?
It is easy to do at: Your Azores Photos. You just upload a picture from your computer, give the page a title and type a description and submit it. Shortly after, your picture and story are a page on the www.magical-azores-islands.com website. If you have been, why not show off your best picture?
Facebook
Magical Azores Islands now has a fan page on Facebook. In just four weeks there are 590 fans! You can become a fan too at:
Magical Azores Islands Facebook Fanpage
Practical Azores Information
I have spent quite a bit of time in the past couple of months trying to determine the best way to provide more information on hotels and other Azores accomodations. I have decided to integrate TripAdvisor information and reviews. It's a big project that will take me some time, but in the end, I think it will be well worth it.
Of course, I still continue to have two favourite recommendations:
Quinta das Acacias
and in Faial
Faial Accommodation in Azores
Azores Maps: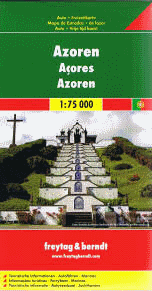 Azores Road Map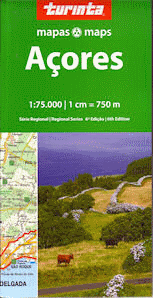 Current Azores weather conditions
Sao Miguel Azores Weather
See you soon!
Well, I hope you are enjoying the ezine each month (approximately of course ;-)
Thanks again for your interest.
All the best,
Rob Belchior
www.magical-azores-islands.com