Wow, another month has gone by already?
If you have not visited www.magical-azores-islands.com this month you might be surprised to see just how many new pages are up. And I have dozens more planned over the next couple of months based on feedback I have received on the comments page. It's been great hearing from so many visitors who have shared so many interesting experiences.
I have had contact with so many wonderful people who I never would have met if it wasn't for my www.magical-azores-islands.com website.
For example, I am not a surfer but I recently came across a blog called The Endless Surfing Blog. It was written by an Avid surfer from Denmark who really enjoyed surfing in Sao Miguel. I am not a surfer but it was great being able to refer to his page and other web sites when I wrote about Surfing in the Azores. For your information: Sao Miguel was the host of a professional surfing event this past summer.
Another great example of hearing from someone with a mutual interest in the islands is Maria from Germany who wrote about her trip to the Azores on her blog: http://www.maria-shipley.de. She has about a dozen different postings about the islands she visited.
So please don't be shy to use the comments page and let me know what you think about the site or the Azores. I love to hear from you and about your experience with the islands.
It looks like I will be travelling to the islands in the next couple of months. I should have the arrangements made in the next few days. I'm quite excited about it. I'll be exploring, enjoying great food and seeing some family. All the while I will be finding more great content to share with you. My goal is to take 1000 new photos! Stay tuned for the best of my 1000 photos. Until then, here are the highlights of what was added this month ...
This issue
1. Pictures from the Island of Flores - many people feel that this is the most beautiful island of them all. Take a look at the pictures and see why.


2. My Azores sailing excursion - sailing in the Azores was a great experience.


3. Whale watching pictures - Getting out to see whales and dolphins is a big draw to the Azores.


4. My top recommendation for accommodations in the Azores - a simply amazing spot with wonderful hosts.


5. Coming soon - many more pages coming. I am especially excited to be asking our visitors to share their most magical Azores experience
This months highlights
Pictures from the Island of Flores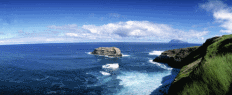 Flores is a very beautiful Island on the western tip of the Archipelago. Take a look at this Flores Azores Photos page for some great pictures. The picture on the right is one of my favourites. It doesn't show much of the island, but I love the picture. That's Corvo on the horizon.
Photo courtesy of Paulo Magalhaes




Azores Sailing
I had a great time sailing in the Azores. If you go in the summer I highly recommend it. I am sure that sailing is available in other months but summer is sure to be your best time. We had a beautiful sunny day filled with great views of the coast and an incredible encounter with a pod of dolphins. Please read more at Azores Sailing. There are actually two pages because I took so many pictures.

Whale watching pictures
The Azores are one of the best places to go to see whales and dolphins. There are 24 different species that have been spotted in the islands. There are several companies offering whale watching tours. Most operate from May to October because the weather is best in those months. You can read more about whale watching at this page: Azores Whale Watching

Accomodations in the Azores
Are you planning your first trip to the Azores? San Miguel is the most common island to go to for first time visitors and I can not think of a better place to stay than Quinta Das Acacias. This is a private set of seven cottages on beautiful grounds. You could spend days on end at the Quinta without leaving and be very satisfied with your trip the Azores. Yes, it is that wonderful. Take a look at my review at Accommodation in Azores. From there you can visit their page directly. I highly recommend that you read the many testimonials on their site and that you strongly consider staying there when you visit the island.
Coming Next Month
Stay tuned for Magical Azores Islands Ezine #004. It is coming this time next month. Here's a sampling of what you can look forward to:

Pictures From Pico - Pico is a popular island to visit. You will see why when you see these pictures.

A hot spring in the Ocean! - the ocean is quite warm in the Azores. But I'll tell you about a spot where it is 28 degrees Celcius thanks to a hot spring (that's about 83 degrees Fahrenheit). You can go for a swim there!

Share your magical Azores Islands experience - Next month I will be adding a new feature to the site encouraging visitors to share their favourite Azores experience or memory. If you have been to the Azores please consider sharing your favourite day or location along with a picture. This should be a very enjoyable spot on the site to visit as it will be written by others who have something terrific to share about the Islands. I can't wait!

That's all for issue number three. Thanks again for your interest and feedback. Be sure to check in at www.magical-azores-islands.com frequently.
All the best,
Rob Belchior
PS if you have a Social Networking page (Facebook, Myspace, etc), a blog, or web site, please don't hesitate to mention and link to www.magical-azores-islands.com. I really appreciate it when the site gets blogged, Twittered, Facebooked, Digged or otherwise shared online.