Welcome back to www.magical-azores-islands.com. In this issue I'd like to share a fantastic lookout that I didn't visit until I had been to the Azores 9 or 10 times. That's much too long to miss such a beautiful spot and I recommend checking it out on your next visit to Sao Miguel. I would also like to tell you about the relgious festival that was being celebrated all across the island, and how I nearly interupted a centuries old tradition.
Ponta do Cintrao
It took me too many years to visit Ponta do Cintrao for the first time. Once I did, it became one of my favourite viewpoints on the island. It's a little out of the way but easy enough to find if you are looking for it. This is thanks to good signage directing visitors who might search the area out.

My pictures really don't do the spot justice. If you like beautiful coastal views this one is a can't miss stop in Sao Miguel Azores.

View to East: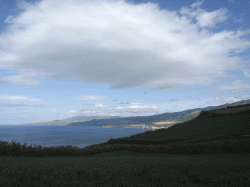 View to West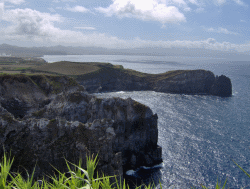 The Lookout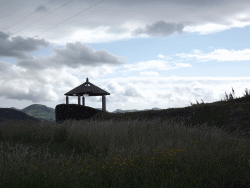 The nearby lighthouse (just north)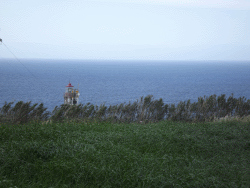 The nearby whale spotting post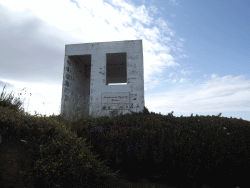 Note: For those that are into geo-caching, there is a geo cache nearby. Find the cooridinates of this and other Azores geocaches at www.geocaching.com.


To find Ponta do Cintrao you must go through the town of Ribeirinha, just east of Ribeira Grande. Once through Ribeirinha, you will have to head up a significant hill to get to the lookout and light house.
Religious Festivals
My last visit to Sao Miguel was 7 weeks after Easter, which is the time of many festivals. Virtually every town (or at the very least, every other town), was celebrating a religious holiday on the same weekend as the celebration of the Autonomy of the Azores. With this going on there were nice decorations put up through the towns (lights, flags, banners, plants, etc) and on the weekend there were fireworks.

The religious festivals are an important part of life in the Azores. The traditions go back hundreds of years and were traditionally an important social event. Many towns have a feast and parade. On my last visit to Ponta do Cintrao, I nearly interrupted a religious procession while driving back through Ribeirinha from Ponta do Cintrao. As far as I can tell, there is only one viable way out of Ponta do Cintrao and that is through Ribeirinha. And on this particular day, there were many people standing in their doorways looking down the street. A few moments later I understood why: there was a religious procession walking up the road towards me.

For those of you unfamiliar with the old parts of Sao Miguel, the roads are cobblestone and the houses are close by, there is barely room for two small cars. So given the circumstances, there was no way for me to get around so I looked to back up the road and parallel park in the first open spot. After stalling the car a couple times and few stressful moments I managed to get out of the way and avoided ruining the party.

The great part of that was that I got to see a wonderful tradition right up close. It was lead by a preist and some very well dressed men, followed by a band and then young women dressed beautifully. They were dressed like you would see girls dressed at a graduation or wedding. I also saw the symbolic, beautiful crown being carried on a pillow. As the group marched by I could see the pride of the town and the joy of the day.

About 15 minutes after backing up out of the way I was clear and able to continue on my way out of town.
Have any Questions About the Azores?
Chances are others have the same question! Please ask any questions you might have at: Magical Azores Islands Comments and Questions. In the past few weeks I answered a couple of first time visitor questions and another about where to get surf boards in Sao Miguel (that one took me a little while...)

Of course, you are also welcome to reply to this email as well!


See you again soon!


All the best,
Rob Belchior
www.magical-azores-islands.com